Recent Center Highlights
Support HSRC during GiveUNC on March 28!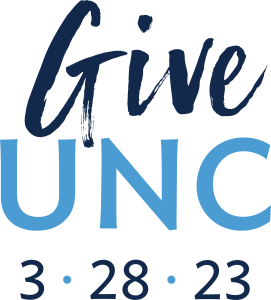 Today is GiveUNC. Please consider giving to HSRC to support research and students like no other!
The UNC Highway Safety Research Center is working hard to help shape the field of transportation safety, and developing tomorrow's transportation safety professionals is an important part of what we do. But it's not just about sound research and impactful trainings. Student engagement is imperative to our mission.
All gifts made to the HSRC during GiveUNC will directly support students in 2023. We have a $1,500 annual scholarship for graduate students in North Carolina — the Megan Cornog Memorial Highway Safety Scholarship — and we are designing a new research assistantship to provide an opportunity for students to engage with interdisciplinary transportation safety-related research, evaluation, and information dissemination projects.
Your GiveUNC gift to HSRC is an investment in our students and supports our collective work toward safer roadways for all users, in all places.
Research and Students Like No Other!
---
HSRC: Beyond the research
Teaching, mentoring, and sharing research information with people who need it is an important part of what we do at HSRC. This means talking to UNC-CH students, practitioners across the country, local communities, and policy makers. Recent highlights from courses, classes, webinars, and media stories include:
Laura Sandt shared findings from her recent e-scooter safety work, sponsored by Behavioral Traffic Safety Cooperative Research Program (BTSCRP), in this article from The Well: Infrastructure needed for e-scooter safety (March 24, 2023)
Natalie O'Brien shared teen driver safety research information in this WECT story: Bill passes N.C. Senate to let minors drive alone sooner, some researchers express concern over changes (March 20, 2023)

HSRC's Kristel Robison leads a CPS Technician training session.

HSRC's resident Child Passenger Safety (CPS) Technician training experts, Bevan Kirley and Kristel Robison, are busy teaching CPS continuing education classes across the state, with colleagues from Safe Kids North Carolina. They are holding 1-day trainings in March (Roxboro), April (Jacksonville), and June (Smithfield). In 2022, they taught classes in Jackson, Yadkin, Martin, and Vance Counties.
HSRC staff provide guest lectures in UNC-CH courses such as:

PUBH 711: Critical Issues in Global Health
PUBH 625: Injury as a Public Health Problem
PLAN 639: Complete, Safe, Equitable Streets
PLAN 590: Field Skills for Road Safety Professionals

We virtually connected with young investigators at the 2022 Science Expo, and we're excited to attend Chapel Hill High School's TigerFest 2023 on May 24, 2023, to guide students through our hands-on exercise to design a safe roadway.
HSRC's Collaborative Sciences Center for Road Safety and the UNC Department of City & Regional Planning co-hosted "Flipping the Script on Traffic Violence," a free, two-day workshop in April 2022 in Chapel Hill-Carrboro. Learn more in this Angles article.
---
HSRC staff are students for life
Learning, listening, and continued education within our respective fields are important parts of the culture at HSRC. Recent highlights from HSRC participation in conferences, trainings, and certification programs include:
---
Digital learning and webinars
One outcome from the COVID pandemic is the normalization of remote learning and the unintended positive consequence of making research easier to share and more accessible via digital platforms. HSRC staff participated in more than 30 webinars and trainings in 2022. Here's a glance at some of our recent efforts.
Building Momentum for Youth Biking: Bike Buses, Bike Trains, and Bike & Roll to School Day
Check out this PBIC webinar for inspiration and concrete ideas for increasing safe places for biking and making it possible for the next generation to spend more time in the saddle.
Improving Safety for Pedestrians and Bicyclists Accessing Transit Guide
Check out this PBIC webinar to learn about the new FHWA/FTA Improving Safety for Pedestrians and Bicyclists Accessing Transit guide and to hear from state, local, regional, and transit agencies who are working together to improve pedestrian and bicyclist safety for those accessing transit.
Peer Influence and the Perceptions of Safety
Check out this CSCRS webinar to learn about a study examining the relationship between an individual's perceptions of safety and those held by their peers using a survey that asked North Carolina residents a myriad of questions concerning transportation.
How to Apply CMFs in Road Safety Audits, Consider CAVs/Technology, and Understand Recent Federal Research
Check out the webinar, which provides recent updates to the Federal Highway Administration (FHWA) Crash Modification Factors (CMF) Clearinghouse, and how CMFs are being applied in Road Safety Audits (RSA) and determining the impacts of CAV Technology.
Reframing Crash Reporting in News Media: A How-to Guide for Road Safety Professionals
The ways in which news media frame crashes can have a significant impact on the public's view of who is responsible, the motivation for making change, and beliefs about potential solutions. Unfortunately, research has found that reporting on crashes typically places responsibility on individual road users (particularly those on foot or biking) and frames crashes as isolated events. Check out this CSCRS webinar to learn about the CSCRS media framing guide, which was recently updated to include step-by-step guidance, tips, and examples for professionals to help reframe the message.
Thinking Outside the Box: Creative Models for State Conferences
Check out this CPS Coordinators Forum webinar to hear a panel of CPS Technicians, Instructors, and advocates share tips for planning state conferences in the post-pandemic world of continuing education and training.
---
Welcome to new staff
HSRC's researchers and staff are the foundation of HSRC. We're so pleased to be able to introduce four new members of the team:
---
Upcoming events
---
Recent publications and presentations
HSRC staff published more than 31 publications and made 61 presentations in 2022, including several papers that received awards at the 2023 Transportation Research Board Annual Meeting:
2023 The Best of the Best Performance Effects of Geometric Design Paper Submissions — Meghna Chakraborty
2023 TRB Transportation Safety Management Systems (ACS10) Best Paper award — Wes Kumfer, Krista Nordback, Mike Vann and Bo Lan
Browse recent and archived HSRC scholarship on the HSRC Publications page, www.hsrc.unc.edu/publication.