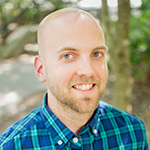 Wes Kumfer
Engineering Research Associate
919-962-3182
Wes Kumfer joined HSRC in 2017 as a post doctoral research associate with a focus on crash analysis and safety education. Wes is currently working on a National Cooperative Highway Research Program project investigating systemic issues that affect collisions between motor vehicles and pedestrians. Wes is also working closely with other researchers to augment HSRC's Road Safety Academy curriculum.
Prior to joining HSRC, Wes worked as a postdoctoral research associate and course instructor at Texas Tech University (TTU) in Lubbock, Texas as part of the Texas Tech University Center for Multidisciplinary Research in Transportation. While at TTU, Wes worked on a number of Texas Department of Transportation (TxDOT) projects related to capacity analysis and rural road safety. Some specific topics he investigated at TTU include young driver education, atypical interchange design, and demographic factors that influence crash type and severity.
Wes received his doctorate in civil engineering at TTU and was active in TTU's Teaching, Learning, and Professional Development Center as a fellow, consultant, and workshop facilitator. In his free time, Wes enjoys hiking with his wife and dog.