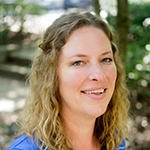 Kristel Robison
Senior Research Associate
919-962-6404
Kristel Robison joined the University of North Carolina (UNC) Highway Safety Research Center (HSRC) in 2015 as a research associate with a focus on occupant protection and older drivers. Kristel is currently working on a National Highway Transportation Safety Administration funded research study examining the effects of physical activity on older drivers' driving abilities and exposure. She is also a certified Child Passenger Safety Technician, educating parents on proper installation and use of child restraints.
Prior to joining HSRC, Kristel was a research associate at the University of California, Los Angeles (UCLA). At UCLA, she coordinated studies that focused on childhood obesity, nutrition, parenting and social skills training for children with Attention Deficit/Hyperactivity Disorder.
Kristel has her master's degree in social welfare from the UCLA and her bachelor's degree in psychology and Spanish from the University of California, Davis. When not working, Kristel enjoys spending time exploring North Carolina with her husband and daughters.