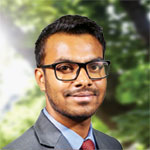 Nitesh Shah
Postdoctoral Research Engineer
Nitesh Shah joined the HSRC team as a Postdoctoral Research Engineer in January 2023. He is passionate about using data to inform transportation engineering, planning, and policy decisions, and his research interests include micromobility, travel behavior, safety, sustainability, and big data applications in transportation. At HSRC, Nitesh is working to develop Crash Modification Factors (CMF) and Safety Performance Functions (SPFs).
Before joining HSRC, Nitesh earned his Ph.D. in Civil Engineering (with a concentration in Transportation Engineering) and a minor in Data Science and Statistics from the University of Tennessee at Knoxville in 2022. Funded through the Graduate Advancement Training and Education (GATE) fellowship at the Oak Ridge National Laboratory (ORNL), his Ph.D. dissertation evaluated the impacts of shared e-scooters through the lens of sustainable transportation.
During his graduate program, Nitesh contributed to more than ten peer-reviewed journal articles and technical reports and gave more than 20 presentations at various national and international conferences. Nitesh also completed a 2019 summer internship at the New Urban Mobility Alliance (NUMO) hosted by the World Resource Institute (WRI), working on issues related to technology disruption in mobility.