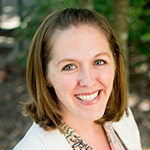 Laura Sandt
Senior Research Associate, HSRC;
Director, CSCRS; and
Director, Pedestrian and Bicycle Information Center
919-962-2358
sandt@hsrc.unc.edu
Laura Sandt has been with the University of North Carolina (UNC) Highway Safety Research Center since 2004 and is active in a variety of research areas, including intervention evaluations and studies focusing on pedestrian and bicycle safety and other modes of travel. Her primary focus area lies in conducting research and developing guidance related to pedestrian and bicycle safety and mobility.
Laura serves as director for the Pedestrian and Bicycle Information Center (PBIC), a federal clearinghouse of pedestrian- and bicycle-related training materials and resources. She has been involved in the development of several popular Federal Highway Administration (FHWA) and National Highway Traffic Safety Administration (NHTSA) resources aimed at various audiences, including the Pedestrian Road Safety Audit Guidelines and Prompt Lists, the guide How to Develop a Pedestrian Safety Action Plan, Countermeasures that Work: 7th Edition, and a toolkit for community members, A Resident's Guide for Creating Safer Communities for Walking and Biking.
She has also led projects working directly with states and local communities to develop, implement and evaluate programs aimed at improving pedestrian and bicycle safety. One such project, funded by the North Carolina Department of Transportation, is the Watch for Me NC education and enforcement program, which is now being implemented across NC and in various cities throughout the U.S. Another ongoing effort is the Safe Routes Wake County project, where Laura is charged with working with a broad coalition of local partners to develop and implement model Safe Routes to School programs and supportive policies to address child pedestrian injuries.
Laura is the director for the Collaborative Sciences Center for Road Safety, a new National University Transportation Center funded by the U.S. Department of Transportation. She has oversight responsibilities for the Center and works to establish direction for CSCRS activities. She is responsible for ensuring compliance with all UTC program requirements including fiscal management and reporting.
Laura has a Ph.D. in epidemiology from the University of North Carolina at Chapel Hill (UNC-Chapel Hill) Gillings School of Global Public Health, with a concentration in injury prevention. She also holds an M.R.P. from UNC-Chapel Hill with a concentration in transportation and land use. Her undergraduate degree is from Texas A&M University. Laura is a member of the American Public Health Association and the Transportation Research Board, where she serves as secretary of the Pedestrians Committee (ANF10), committee communications coordinator and co-chair of the Paper Review Subcommittee.
Laura lives in Carrboro, NC, with her husband, son and daughter, who share her enthusiasm for bicycling, walking and hiking.