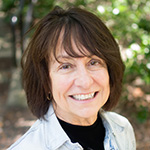 Lauren Marchetti
Senior Strategic Adviser
Lauren Marchetti is a senior strategic advisor at HSRC, where she has worked for more than 40 years. Lauren served as director of the National Center for Safe Routes to School Center (National Center) within HSRC from May 2006 until her retirement in January 2016. Prior to that time, she served as associate director of the Pedestrian and Bicycle Information Center, also part of HSRC, for seven years. In her current position, Lauren is continuing her work to advance safe walking and bicycling with a focus on youth and the trip to school.
Lauren has led projects for many organizations including the National Highway Traffic Safety Administration, Federal Highway Administration, the Centers for Disease Control and Prevention, the Robert Wood Johnson Foundation and the North Carolina Governor's Highway Safety Program. Her project experience ranges from promotion of child restraints and seat belts, efforts to deter drinking and driving and speeding and, most recently, the promotion of safe walking and bicycling.
In 2012, Lauren received, on behalf of the National Center, the Harvard Bright Ideas in Government Award for the work of the Center to develop a national data system that enabled documentation and evaluation of local Safe Routes to School projects across the country. Lauren was a co-recipient of the Transportation Research Board 2008 Outstanding Paper Award. In October 2007, Lauren presented a STATEMENT FOR THE RECORD to the Highways and Transit Subcommittee of the Committee on Transportation and Infrastructure, United States House of Representatives, regarding the progress of the Federal Safe Routes to School Program.
As part of a project for the US Department of Transportation, Lauren established National Walk to School Day in 1997, and joined with representatives from Canada and the United Kingdom to establish International Walk to School Day in 2000. This effort was recognized in 2002 with the Stockholm Challenge Award for Sustainable Cities. In 2012, the National Center, under Lauren's leadership, established National Bike to School Day. Both Walk to School Day and Bike to School Day have grown in participation each year of their existence and surveys of event coordinators indicate that more than half of events had an impact on making a policy or engineering change.  
Lauren received a degree in design and communication from the University of Georgia in 1971 and completed the CASE Institute in Communications, conducted at the University of Notre Dame, in 1985.