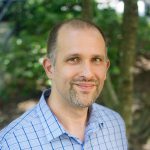 Michael Clamann
Senior Human Factors Engineer
919-962-0045
Michael Clamann is a Senior Human Factors Engineer with the UNC Highway Safety Research Center (HSRC) where he researches how technology can help reduce human error on our roadways. His areas of expertise include human-automation interaction and autonomous vehicle technology.
Before coming to HSRC, he worked as a senior research scientist with the Humans and Autonomy Lab (HAL) in Duke Robotics. For more than 15 years Michael has worked in industry and academia studying how people can effectively team with highly automated and autonomous systems in a variety of domains including transportation, aerospace, defense and telecommunications. His previous project work in transportation includes identifying methods for autonomous vehicles to communicate with pedestrians, investigating ways to measure a driver's mental workload and detect distraction while operating a highly automated vehicle, and measuring the effectiveness of using a mobile app to advise pedestrians about safe street crossings.
He is an adjunct lecturer at Duke University where he teaches graduate and undergraduate courses in human factors, autonomous vehicles, and robotics and artificial intelligence policy. He also launched the robotics and artificial intelligence portal for the Duke's Science Policy Tracking Program, SciPol, where he managed a team of student writers responsible for tracking and reporting on policy developments related to robotics and AI.
Michael represents HSRC as a member of the North Carolina Department of Transportation's Fully Autonomous Vehicle Committee (FAVC), where he leads the Autonomous Vehicle Research Group. He previously provided testimony to the National Highway Traffic Safety Administration (NHTSA) on the Federal Automated Vehicles Policy.
Michael received a Ph.D. in Industrial and Systems Engineering with a Psychology minor at North Carolina State University in 2014. He received a M.I.E. in Industrial and Systems Engineering and a M.S. in Experimental Psychology from North Carolina State University in 2011 and 2002, respectively. He is a Certified Human Factors Professional (CHFP) and a member of the Human Factors and Ergonomics Society (HFES).