Recent Center Highlights
2018 Service Awards – HSRC Staff Milestones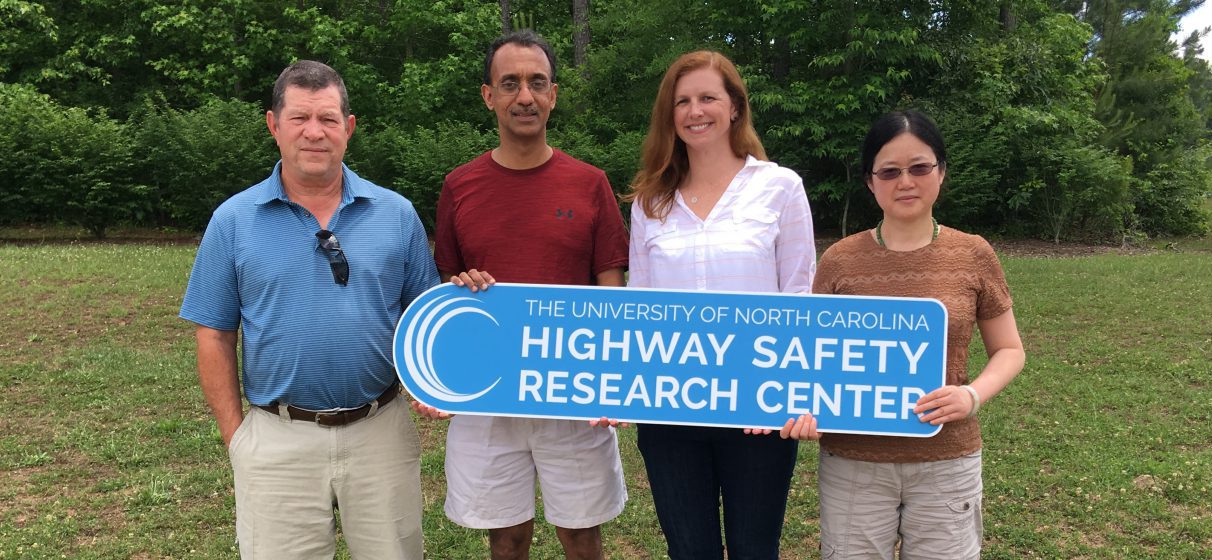 From left: Richard Lytle, "Srini" Raghavan Srinivasan, Natalie O'Brien and Bo Lan
We are pleased to recognize the following staff members for their contributions and service to HSRC, UNC-CH and the state of North Carolina:
25 years: Richard Lytle
15 years: "Srini" Raghavan Srinivasan
10 years: Natalie O'Brien
5 years: Bo Lan & Yudan Wang
---
Safe Systems Summit rescheduled for April 23-24, 2019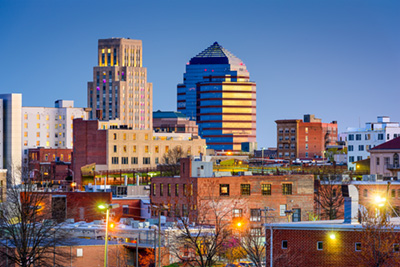 The Safe Systems Summit has been rescheduled for Apr. 23-24, 2019, in Durham, NC. The event was postponed due to Hurricane Florence, which made landfall in North Carolina at the same time as the original conference. The rescheduled event will feature most of the original program speakers and offer new opportunities for engagement. Stay tuned at roadsafety.unc.edu for updated information on registration, hotels, and other details.
---
New research project focuses on improving the culture of traffic safety in the Appalachian region
Due to their largely rural location, mountainous and curved terrain, exposure to extreme weather conditions, and remoteness, roadways within the Appalachian region of the United States experience significantly different traffic safety conditions than other roadway systems. Many of the roadways are two-lane facilities that service counties with poor cultures of health. In a new project, HSRC researchers will work with the Appalachian Regional Commissionto analyze the traffic safety culture in the region to both measure the effects of ongoing projects and to suggest future areas for improvement.
---
UNC-Chapel Hill's online expert database features two HSRC researchers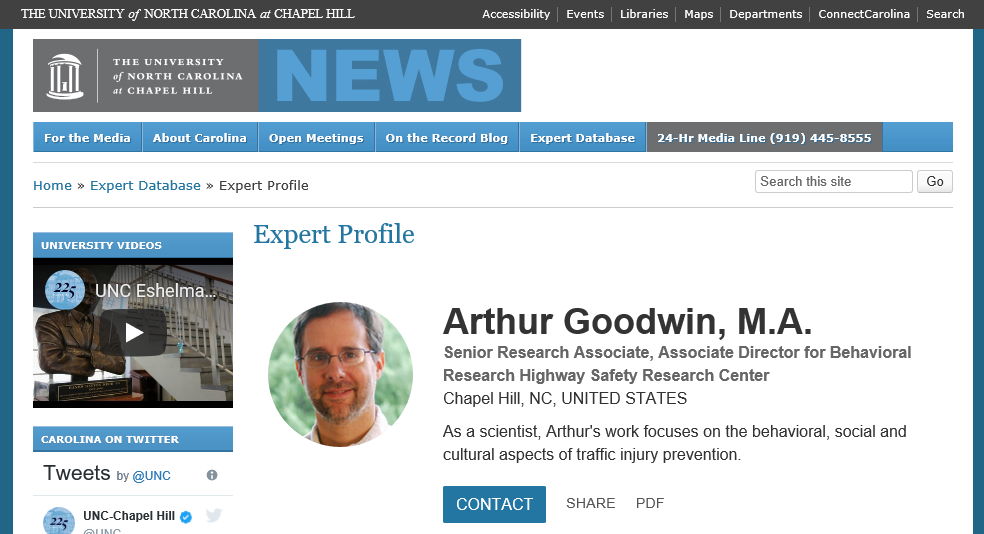 The UNC ExpertFile, a searchable directory of faculty experts, includes detailed profiles for Arthur Goodwin and Michael Clamann.
Goodwin's work concentrates on the behavioral, social and cultural aspects of traffic injury prevention. Clamann's research focuses on how current and future technologies can help reduce human error — and ultimately improving safety — on our roadways.
The purpose of this database is to allow media to quickly search and locate UNC-CH faculty who specialize in certain topics and can participate in news interviews. While a new way to access HSRC's experts and expertise, this is just one of the many avenues through which HSRC researchers are participating and engaging in public outreach activities and conversations about transportation and safety in North Carolina and beyond.
---
2018 HSRC Scholarship awarded to UNC-Chapel Hill student
The University of North Carolina at Chapel Hill Highway Safety Research Center announced the recipient of the 2018 Megan Cornog Memorial Highway Safety Scholarship as Kaitlin Heatwole. Heatwole is pursuing dual Master of Public Health and Master of City and Regional Planning degrees with UNC Gillings School of Global Public Health and the UNC-CH Department of City and Regional Planning, respectively. Heatwole will visit HSRC in the spring of 2019 to discuss her research and areas of interest with HSRC staff. Please contact Marie Melendez, melendez@hsrc.unc.edu, if you would like to attend this free event.
---
CMF Tune Up: Resources, Methods and Real-world Applications of CMFs
Join transportation engineers, designers and planners from across the country to learn how to use the most recent updates to the Federal Highway Administration's Crash Modification Factors (CMF) Clearinghouse, resources on how to select the best CMF, and how Pennsylvania and California incorporate CMFs into their tools and programs.
Monday, December 17, 2018
2:00 p.m. to 3:30 p.m. Eastern
Register for the webinar here.
---
CSCRS to host second Safety Sunday networking reception at TRB Annual Meeting
HSRC-managed CSCRS will host its second Safety Sunday @ TRB, a safety conversations and networking reception, in conjunction with the Transportation Research Board 98th Annual Meeting in Washington, D.C.
Please mark your calendars for Sunday, Jan. 13, 2019, to stop by this event to discuss key safety-related research topics with safety University Transportation Center researchers, staff, students and transportation practitioners.
The casual reception will be held in the Archives Room (Meeting Level 4) at the Marriott Marquis Washington DC. Refreshments will be provided, and a cash bar will be available. Visit here for a recap of the 2018 event.
Marriott Marquis Washington DC
901 Massachusetts Avenue NW, Washington, D.C., 20001
Sunday, January 13, 2019
5:00 p.m. to 6:30 p.m. Eastern
---
HSRC @ 2019 TRB Annual Meeting
Many HSRC researchers will present new research, lead meetings and sessions, and participate in the Transportation Research Board's 98th Annual Meeting. Connect with HSRC to learn more about what's happening at the Center first-hand:
Monday, January 14
Lectern Session 1127
The Struggle Is Real: Interventions for Novice Teen Drivers
8:00 a.m. – 9:45 a.m.
Evaluation of an Advanced Driver Training Program for Young Traffic Offenders
Featuring HSRC presenters: Rob Foss, Arthur Goodwin, Stephanie Harrell, Natalie O'Brien, Yudan Wang
Poster Session 1218
Collecting and Analyzing Pedestrian and Bicyclist Data
10:15 a.m. – 12:00 p.m.
Minimizing AADNT Estimation Errors: How Many Counters are Needed per Factor Group?
Featuring HSRC presenter: Krista Nordback
Poster Session 1234
Potpourri of Teen Driver Research
10:15 a.m. – 12:00 p.m.
Linking Data from Multiple Sources to Enhance Research on Young Drivers
Featuring HSRC presenter: Yudan Wang
Lectern Session 1274
Building Systems into a Safe System: From Theory to Practice
1:30 p.m. – 3:15 p.m.
Building Systems into a Safe System: From Theory to Practice
Featuring HSRC moderator: Seth LaJeunesse
Lectern Session 1276
Pedestrian Crossing Behavior and Safety
1:30 p.m. – 3:15 p.m.
HSRC's Laura Sandt as presiding officer
Midblock Pedestrian Crash Predictions in a Systemic, Risk-Based Pedestrian Safety Process
Featuring HSRC presenters: Wesley Kumfer, Bo Lan, Laura Sandt, Libby Thomas
Poster Session 1366
Gaining Insight into Highway Safety and Risk Through Improved Methods and Models
3:45 p.m. – 5:30 p.m.
Featuring HSRC's "Srini" Raghavan Srinivasan as presiding officer
Tuesday, January 15
Lectern Session 1401
Emerging Issues in Design and Construction
8:00 a.m. – 9:45 a.m.
Glow-in-the-dark Pathways and Transportation Materials: A Synthesis of Currently Available Technologies, Completed Projects, and Associated Costs
Featuring HSRC presenter: Sarah O'Brien
Lectern Session 1413
Highway Safety Performance Data-Driven Analyses: When It Counts
8:00 a.m. – 9:45 a.m.
Evaluation of Protected Left-Turn Phasing and Leading Pedestrian Intervals Effects on Pedestrian Safety
Featuring HSRC presenters: Daniel Carter, Bo Lan
Identification of Critical Intersection Angle through Crash Modification Functions
Featuring HSRC presenters: Daniel Carter, Wesley Kumfer, Bo Lan, "Srini" Raghavan Srinivasan
Poster Session 1500
Recent Research on Motorcycles and Mopeds
10:15 a.m. – 12:00 p.m.
Featuring HSRC's Arthur Goodwin as presiding officer
Young Drivers Subcommittee
8:00 a.m. – 9:45 a.m.
Featuring HSRC's Rob Foss as presiding officer
Wednesday, January 16
Poster Session 1706
Highway Safety Performance
8:00 a.m. – 9:45 a.m.
Safety Evaluation of Pedestrian Countdown Signals – Definitive Results from Two Cities in the United States
Featuring HSRC presenters: Daniel Carter, Bo Lan, Taha Saleem, "Srini" Raghavan Srinivasan
Poster Session 1499
Bicycle Transportation Research
10:15 a.m. – 12:00 p.m.
Bicycle Crash Types on National, State and Local Levels: A New Look
Featuring HSRC presenters: Krista Nordback, Libby Thomas
Proactively Informing Targeted Safety Efforts in San Francisco, California: Developing a Safety Performance Function to Predict Intersection Cyclist Injuries
Featuring HSRC presenters: Bo Lan, Libby Thomas
Traffic Speed and Safety—Cross-Cutting Issues
10:15 a.m. – 12:00 p.m.
Featuring HSRC's Libby Thomas as presiding officer
Thursday, January 17
Workshop 1798
Exploring the Complexity of Pedestrian Fatality Trends: Understanding the Underlying "System" to Inform More Effective Action
8:00 a.m. – 12:00 p.m.
Featuring HSRC's Wesley Kumfer and Laura Sandt as presiding officers
Crashes as a Systemic Failure: An Introduction to a Systems Approach to Road Safety
Featuring HSRC presenter: Wesley Kumfer
For more information, visit: http://www.trb.org/AnnualMeeting/Program.aspx.