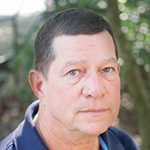 Richard Lytle
Web Applications Programmer
Richard Lytle joined the University of North Carolina (UNC) Highway Safety Research Center (HSRC) in April 2008. With an extensive background in programming, Richard serves as a web applications programmer for the Center. In his role, he creates and maintains various web applications and works in the development and maintenance of HSRC's databases.
Richard has been an applications programmer for more than 10 years and earned his degree from East Carolina University. Prior to joining HSRC, Richard worked for the UNC School of Medicine as a web and database programmer. He also brought his expertise and knowledge to the UNC Center for Digestive Diseases and Nutrition in a similar role.
Richard has two sons, Edward and Joseph, and enjoys golfing and fishing in his spare time.