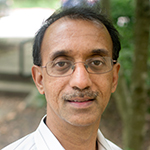 Raghavan (Srini) Srinivasan
Senior Transportation Research Engineer
919-962-7418
Raghavan "Srini" Srinivasan is a senior transportation research engineer at the University of North Carolina Highway Safety Research Center. His areas of interest include traffic engineering and safety, human factors, and the application of statistics and econometric methods.
Srini has more than 20 years of experience conducting research for federal agencies including the National Cooperative Highway Research Program, Federal Highway Administration and National Highway Traffic Safety Administration and state departments of transportation including Virginia, New Jersey, New York, California and North Carolina. His project experience ranges from work that examined driver distraction to in-vehicle navigation devices to projects that have evaluated the safety of engineering improvements on highways and intersections. He has extensive experience in the state-of-the-art methods in highway safety, including the empirical Bayes method. In 2008, Srini was the co-recipient of the 2008 D. Grant Mickle Award for the best paper in area of operation, safety and maintenance, presented by the Transportation Research Board (TRB).
Prior to coming to HSRC, Srini was faculty in the transportation program at Dowling College on Long Island, where he worked on projects dealing with the evaluation of graduated driver licensing, driver perception of traffic control devices at railroad grade crossings, and traffic flow and safety in 55 and 65 mph speed limits.
Srini earned a Ph.D. in civil engineering (transportation) with a minor in probability and statistics, from the University of California at Davis and an M.S. in civil engineering (transportation) from the University of Virginia at Charlottesville. He is currently actively involved in several TRB committees.