Recent Center Highlights
HSRC Insights video on teen driving, featuring Natalie O'Brien
Check out the newest HSRC Insights video from Natalie O'Brien about teen driver safety and research efforts at HSRC. 
HSRC Insights is a video series that provides perspectives about HSRC research, news, staff, events, and more.
---
HSRC staffing news
A few HSRC staffing updates to share:
Welcome to Meghna Chakraborty, HSRC's new post-doctoral research associate.
Happy retirement to Libby Thomas (Fall 2021) and Charlie Zegeer (Spring 2022).
Randa Radwan departed HSRC in October 2021. The Center is under the interim co-directorship of Caroline Mozingo and Laura Sandt.
---
PBIC Vision Zero for Youth Philadelphia demonstration project
Cities of all sizes are committing to eliminating traffic fatalities and serious injuries, often as part of Vision Zero initiatives. The Vision Zero for Youth Initiative encourages communities to focus safety improvements and slow traffic speeds where children and youth walk and bike. For the last two years, the Pedestrian and Bicycle Information Center (PBIC) with Toole Design partnered with the City of Philadelphia Office of Transportation, Infrastructure and Sustainability to implement a two-year Vision Zero for Youth Demonstration Project. The project aimed to gain an understanding of tangible strategies to ensure that youth are represented in Vision Zero efforts and provide such strategies and tools for other cities to use. A new summary report Vision Zero for Youth Demonstration Project, Philadelphia, PA, 2019-2021 shares a combination of approaches of systemic pedestrian safety analyses informed by equity concerns, policy updates, and engagement that reinforced the City of Philadelphia's commitment to youth road safety. A recent PBIC webinar includes more information and project results.
---
Resource highlight: CSCRS Research to Practice Bytes Series
The Collaborative Sciences Center for Road Safety's Research to Practice Bytes series offers monthly online learning seminars focused on multidisciplinary research and practices to advance transportation safety. The series frequently features principles and practices related to Safe Systems and the role of systems science, core themes in CSCRS's initiatives. 
See the series website for details on upcoming sessions, links to recordings, and other details.
---
Two HSRC scholarships for NC students – Apply now
HSRC is now accepting applications from students at any University of North Carolina system campus for two scholarships: the $5,000 HSRC Diversity Scholarship for undergraduate students, and the $1,500 Megan Cornog Memorial Highway Safety Scholarship for graduate students. Learn more about HSRC scholarships.
Congratulations to the 2021 Megan Cornog Memorial Highway Safety Scholarship recipient, Thanh Schado, who is pursuing a master's degree in planning at Appalachian State University.
Unfortunately, HSRC wasn't able to award the first-ever HSRC Diversity Scholarship last year. But we're working hard to hone our outreach strategy and have started the search for eligible candidates for both scholarships in 2022.
HSRC scholarships are made possible through donations. Thank you to our amazing donors gave $1,805 for HSRC scholarships through GiveUNC on Tuesday, March 29, 2022. Learn more about giving to HSRC here.
---
CSCRS teaches kids about designing safe roads during the NC Science Festival
As part of the annual 2022 North Carolina Science Festival, a month-long celebration of science throughout the Tar Heel State, CSCRS presented two activities designed to engage young students in imagining what it takes to make roads safe.
On April 6, 2022, CSCRS researcher Seth LaJeunesse, UNC Highway Safety Research Center (HSRC), guided approximately 70 North Carolina middle school students through a virtual safe road demonstration. A teacher from one participating class shared, "They were so incredibly excited when they found out that they would be able to talk with 'real engineers' (as they put it), and they absolutely loved seeing you implement their suggestions. I had several students tell me that they now wanted to explore engineering as a career."
Then on April 9, 2022, several CSCRS colleagues hosted a table at the UNC Science Expo, an in-person event coordinated by the UNC Morehead Planetarium & Science Center. The Expo was held on the UNC campus with dozens of booths featuring family-focused science activities. At the CSCRS exhibit, kids were invited to use miniature road design features to plan a safe path to school along a busy street. Approximately 5,000 people attended the event this year.
---
HSRC joins Road to Zero Coalition Steering Group
HSRC researcher Wes Kumfer recently joined the Road to Zero Coalition Steering Group on behalf of the Center. This Steering Group guides the Road to Zero Coalition toward its goal of ending preventable deaths on U.S. roadways by 2050. The National Safety Council leads the Road to Zero initiative in partnership with the U.S. Department of Transportation – specifically the National Highway Traffic Safety Administration, the Federal Highway Administration, and the Federal Motor Carrier Safety Administration – and around 16 additional organizations.
"I'm excited to be one of the first researchers asked to join this Steering Group made up of transportation safety experts and leaders from across the country," said Kumfer. "I look forward to bringing HSRC's insights in the Safe System Approach and experience in researching the many ways transportation safety impacts road users of all demographics to the Road to Zero Coalition."
---
Picture this: Creative research communications "vehicles"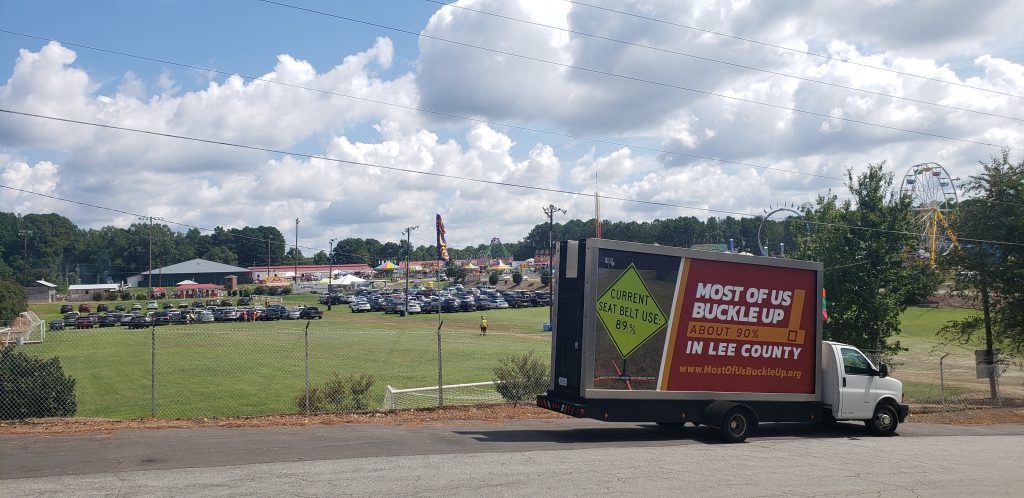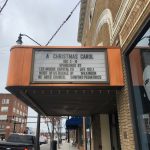 Research can look very different and use a great variety of communications vehicles. Recently, Most of Us Buckle Up, an HSRC project supported by the NC Governor's Highway Safety Program focused on seat belt use and social norms, used several creative communications "vehicles" to reach intended audiences in Lee County, NC, including: a moving billboard, support of a regional theatre production, and a 60-second video for previews at the local movie theatre.
---
HSRC hosted NCDOT summit for second time
In October 2021, HSRC presented the third annual North Carolina Department of Transportation Research & Innovation Summit, which attracted almost 350 attendees. This was the second time HSRC hosted the Summit as an online-only event. Session recordings, a virtual poster gallery, and other details are available on the Summit website.