The Megan Cornog Memorial
Highway Safety Scholarship
---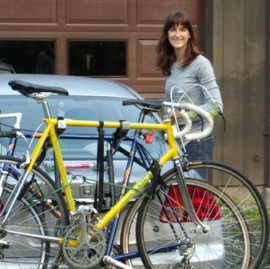 The Megan Cornog Memorial Highway Safety Scholarship is awarded to a student with an interest in transportation who is enrolled full-time in a graduate program, working toward a master's degree, at any of the University of North Carolina system campuses.
Named in memory of HSRC staff member Megan Cornog, the purpose of the scholarship is to foster the education and professional development of graduate students with an interest in transportation related areas, including, but not limited to, engineering, driver behavior, planning, public health and environmental issues.
HSRC invites scholarship winners to present on their research and experience during a lunch-and-learn session in the HSRC office. For example, 2016 winner Yulin Deng presented on the effects of on-road signs on driver attention allocation and performance. 
A call for applications is issued each spring, and candidates for the annual $1,000 scholarship are evaluated on a 500-1,000 word essay, as well as academic performance, career goals, extracurricular and professional activities, and work experience.
Megan Cornog died Sunday, November 7, 2010 at her home in Carrboro, N.C. after a courageous battle with cancer. Earning her master's degree from UNC-Chapel Hill in May 2009, Megan began her career working as a project coordinator for HSRC, focusing on pedestrian and bicycle issues.
We are currently accepting applications for the 2020 Megan Cornog Memorial Highway Safety Scholarship. The deadline to apply is June 15, 2020. Eligibility and application details are included below.
Eligibility Requirements
To be eligible for the Megan Cornog Memorial Highway Safety Scholarship, the applicant must be enrolled full-time in a graduate program, working toward a master's degree, at one of the University of North Carolina campuses in the fall 2020 semester (this includes students in the first several years of a combined master's/Ph.D. program). Students should have an interest in the transportation field. Current HSRC employees, students employed by HSRC after August 1, 2019, and/or relatives of current HSRC employees are not eligible for the scholarship.
Procedures
Individuals meeting the above requirements are invited to complete an application. Applications can be submitted via mail or online. View application materials and instructions here. The deadline to submit applications is June 15, 2020.
Criteria for Evaluation
All qualified and eligible applications will be reviewed. A review committee of transportation research experts will judge the applicants on the basis of a completed application, a 500 – 1,000 word essay and an optional recommendation statement by a faculty member or employer. Final evaluation will take into consideration the applicant's academic excellence, career goals and work experience. Applicants may be subject to an interview upon the request of the review committee. The review committee also reserves the right to not award the scholarship if it is deemed that there is no suitable applicant for the award.
Awarding of Scholarship
The student selected to receive this scholarship will be notified in July 2020. Students not selected will be notified shortly thereafter. Scholarship funding will be sent directly to the recipient's university financial division for distribution to the student.
Previous scholarship winners (with their universities and areas of study):
2019: Juliette Leonardo (East Carolina University College of Allied Health Sciences

–

Occupational Therapy)
2018: Kaitlin Heatwole (University of North Carolina-Chapel Hill

–

Gillings School of Global Public Health/Department of City and Regional Planning)
2017: Jonathan Holt and Detective Justin Stirewalt (both University of North Carolina-Chapel Hill – Public Administration)
2016: Yulin Deng (North Carolina State University – Industrial Engineering)
2015: Hallie Clark (North Carolina State University – Human Factors and Applied Cognition)
2014: Lauren Cochran (East Carolina University – Occupational Therapy)
2013: *not awarded*
2012: Laura Peoples (University of North Carolina-Greensboro – Public Health)
2011: Zachary Bugg (North Carolina State University – Transportation Systems Engineering)
2010: Michael Ousdahl (University of North Carolina-Chapel Hill – City and Regional Planning/Public Administration) and Catherine Vladutiu (University of North Carolina-Chapel Hill – Epidemiology)
2009: Katherine Hebert (University of North Carolina-Chapel Hill – City and Regional Planning/Urban Planning)
2008: Kathryn Martin (University of North Carolina-Chapel Hill – Public Health)
2007: Chava Kronenberg (University of North Carolina-Chapel Hill – City and Regional Planning)