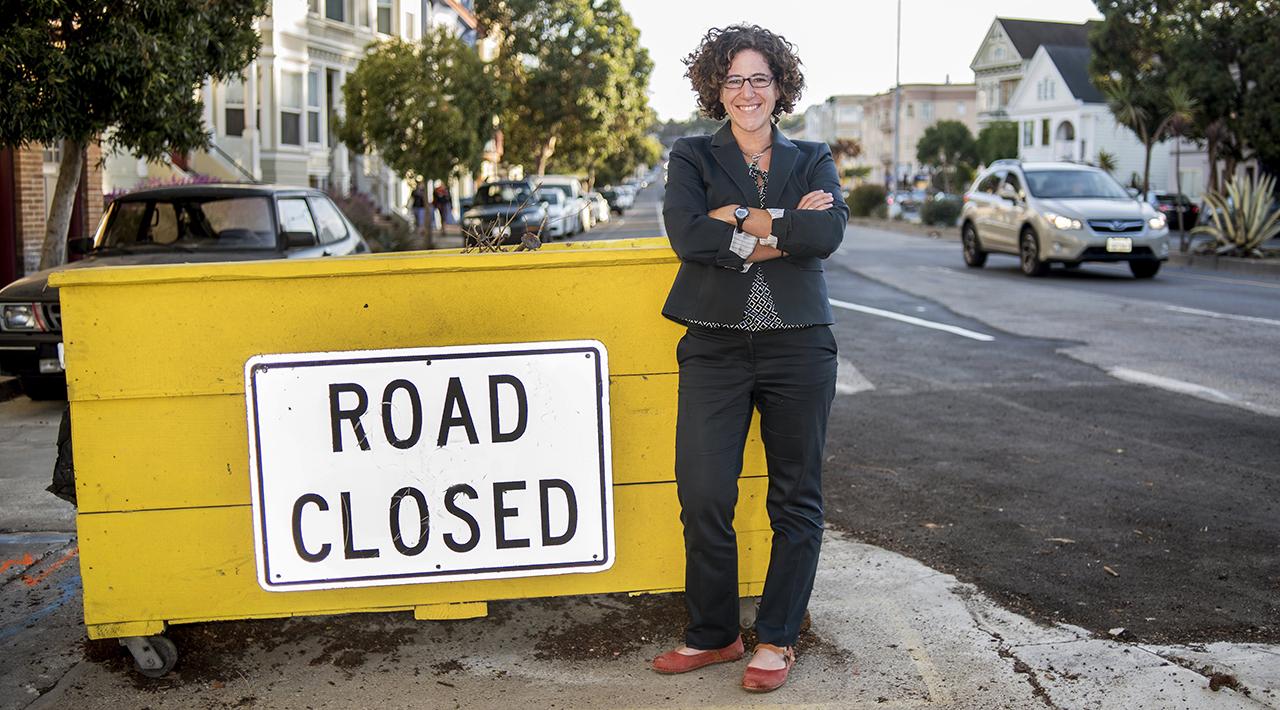 $1,500 HSRC Scholarship now open, inaugural winner reflects on career path since 2007
By Monique Williams
HSRC is now accepting applications for the 2023 Megan Cornog Memorial Highway Safety Scholarship. As we begin the search for our 16th winner, we reconnected with our very first recipient of the HSRC scholarship, Chava Kronenberg, to see what she's been up to since her scholarship win.
---
Chava Kronenberg, 2007 HSRC Scholarship winner
Chava Kronenberg received the first-ever HSRC Scholarship in 2007 when she was a master's student in City and Regional Planning at UNC-Chapel Hill. Now, she is the Pedestrian Manager for the San Francisco Municipal Transportation Agency and co-chair of the San Francisco Vision Zero Task Force. Chava's current work includes projects in the city's Tenderloin and South of Market neighborhoods focused on making walking, biking, and taking transit safe. She shared the following reflections about her experiences as a graduate student and career milestones:
"I feel so lucky to have picked UNC-CH as my graduate program. It gave me the academic background to understand the multi-faceted issues that create our unsafe streets (land use, housing, economic development), the many different ways that practitioners can work to improve things, and the known and real obstacles to building streets for safety."
"My last project (in my current role) was one of those legacy projects — you get one or two in your career — and it was closing JFK Drive to cars in Golden Gate Park. It was so important to the city, and it was a career highlight to get to project manage the closure into a post-Covid, forever car-free street," Chava said when asked about her favorite road safety project.
"We had three months to run the largest outreach effort I've ever done, and we were able to engage thousands of San Franciscans in a meaningful conversation about the future of Golden Gate Park. People in San Francisco love this new public space, and it's become a national symbol of what is possible for traffic safety. I'm so proud of being able to work on it. I hope every practitioner gets a project as rewarding."
---
Several of other former HSRC Scholarship winners moved on to careers that connect to transportation safety too:
Zachary Bugg was the fifth recipient of the HSRC Scholarship in 2011. He received his Ph.D. in Transportation Systems Engineering from North Carolina State University in 2012. At NC State, he was a research and teaching assistant at the Institute for Transportation Research and Education. Zachary now serves as a senior engineer for Kittelson & Associates, Inc., in Wilmington, NC. According to his profile page, most of Zachary's experience includes project work in the areas of transit planning, microsimulation analysis, roundabout design and operations, highway safety, and lane elimination/complete streets planning.
Justin Stirewalt was our tenth recipient of the Megan Cornog Memorial Highway Safety Scholarship, receiving the award in 2017. He earned his Master of Public Administration in Local Government & Economic Development Focus Areas at UNC Chapel Hill in 2019. Justin currently serves as a detective for Surry County Sheriff's Office and Criminal Justice Adjunct Instructor at Surry Community College in Mount Airy, North Carolina.
Thanh Shado the fourteenth recipient of the Megan Cornog Memorial Highway Safety Scholarship in 2021, is currently finishing up her master's degree in planning at Appalachian State University. Thanh's thesis is focused on key informant perspectives on Connected Autonomous Vehicles, and she is in the midst of searching for a full-time planning position in North Carolina.
---
About the scholarship
The Megan Cornog Memorial Highway Safety Scholarship is available to a graduate student interested in transportation-related areas, including, but not limited to, engineering, driver behavior, planning, public health, and environmental issues. Applicants must be enrolled full-time in a graduate program, working toward a master's degree in fall 2023 (this includes students in the first several years of a combined master's/ Ph.D. program), at any of the University of North Carolina system campuses.
This scholarship is awarded in memory of Megan Cornog, a former project coordinator at HSRC who lost her battle with cancer in 2010. Candidates for the $1,500 scholarship will be asked to write a 500–1,000-word essay on a specific transportation issue, further described on the application form. Academic performance, extracurricular and professional activities, career goals, and work experience will also be considered.
The deadline to apply for the scholarship is May 31, 2023. You can apply online or via mail, just download a printable application form here. For more information, please visit www.hsrc.unc.edu/scholarship.
---
This article was written by Monique Williams, a graduate communications assistant at HSRC focusing on transportation safety, road safety, and pedestrian safety, along with social media analytics. She is pursuing a master's degree in journalism at the UNC Hussman School of Journalism and Media.