New Codes for New Modes: HSRC researchers develop a new way to categorize injuries related to micromobility devices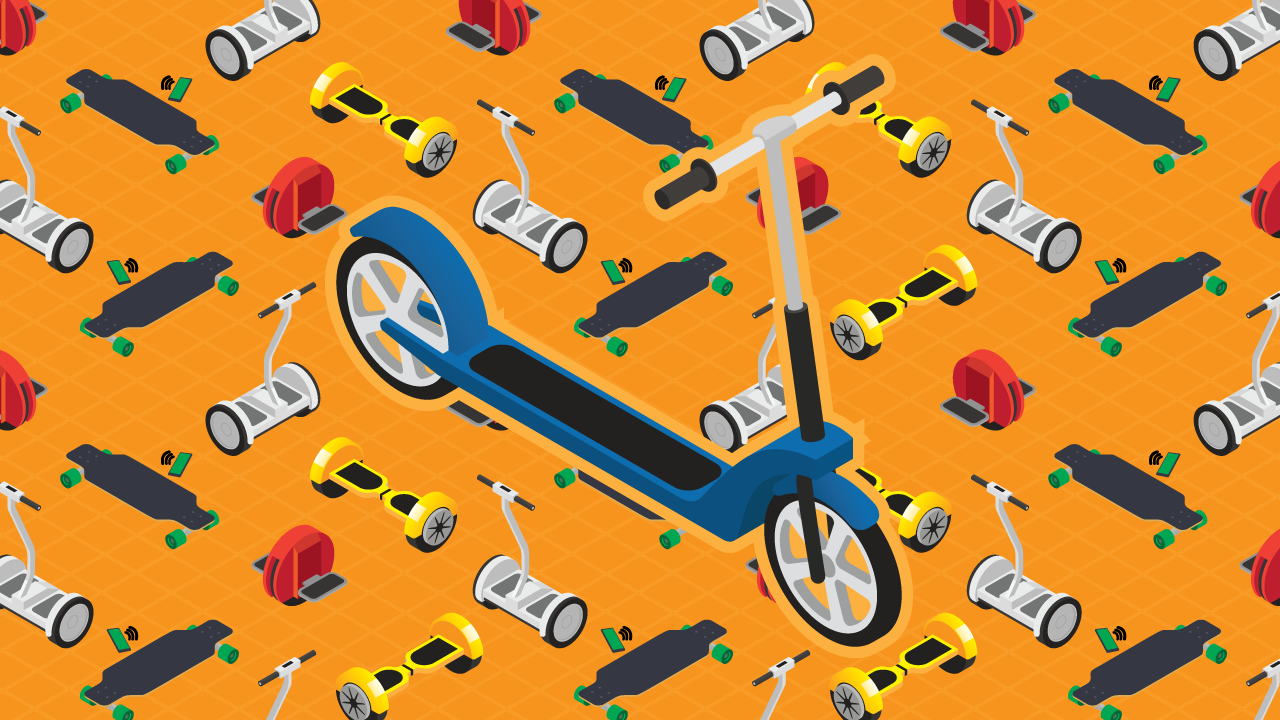 The International Classification of Diseases, Tenth Revision, Clinical Modification (ICD-10-CM) is used in the United States to categorize diseases and injuries for research, billing and administrative purposes. Because e-scooters and other micromobility devices are so new, there are no ICD-10-CM codes for categorizing injuries related to these devices. This led HSRC Senior Research Associate Laura Sandt and Postdoctoral Research Associate Katie Harmon, in collaboration with a multidisciplinary team of members from public and private institutions across the U.S., to propose a series of new ICD-10-CM codes to be included in an updated version of ICD-10-CM to be released in October 2020.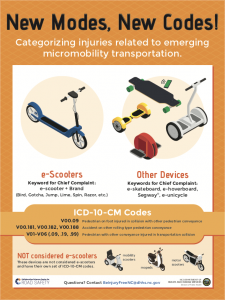 A collaboration between researchers at the UNC Highway Safety Research Center, the University of Tennessee, Knoxville and the University of California, Berkeley, this important work is part of a Collaborative Sciences Center for Road Safety-funded project entitled "Integrating Micromobility into Transportation Systems Phase I: Understanding Safety-Related Behaviors and Impacts and Standardizing Safety Metrics." One of the objectives of this project is to improve the surveillance of injuries related to micromobility devices where medical staff include a combination of keywords (e.g., "e-scooter + brand [Bird]") and existing ICD-10-CM codes (e.g., "V03.19 Pedestrian with other conveyance injured in collision with car, pick-up truck or van in traffic accident") to assist researchers, public health practitioners, and transportation safety professionals to identify and monitor micromobility device-related injuries.
"The proposed new codes will not go into effect for some time, so we created a poster to help clinicians and medical coders use a combination of free text and existingcodes in the meantime," said Harmon. "The end goal is to help health care professionals accurately categorize injuries related to e-scooters and other micromobility devices, which will in turn provide more accurate transportation and injury data for researchers across the country."
This poster was made in response to a request and with feedback from the Injury and Violence Prevention Branch at the NC Division of Public Health and reflects coding recommendations made by the NC Trauma Registry. NC DPH will take the lead in distributing the posters to NC hospitals through their email distribution list and through the NC Trauma Regional Advisory Committees.
While the initial audience is North Carolina hospital staff, and trauma centers specifically, Sandt and Harmon plan for the coding schema to serve as a national model and have already shared the poster with the Maryland Trauma Registry.
"This work is in response to the recognition that 'you can't manage what you can't measure,'" said Sandt. "With the rise in e-scooter systems and use across the U.S. there is an urgent need to modernize our approach to how we monitor traffic-related injuries and to better 'capture' these emerging technologies so that we can better understand safety risks and the effects of different safety management approaches."
As more hospitals adopt the approach being recommended, researchers like Sandt and Harmon will be able to make more apples-to-apples comparisons of injury trends across different communities.
"[Harmon] has done a tremendous job coordinating this work within North Carolina, but she's also connecting with a broader group of stakeholders at hospitals and universities in several other states," Sandt continued. "Through this coalition, we're leading regular calls to exchange information, discuss research findings and needs, and build a network of informed partners who are more able to respond to emerging technologies in relation to injury surveillance practices."
For more information about this project, or to request a copy of the poster, please contact Katie Harmon at harmon@hsrc.unc.edu.