HSRC researchers garner three outstanding paper awards at TRB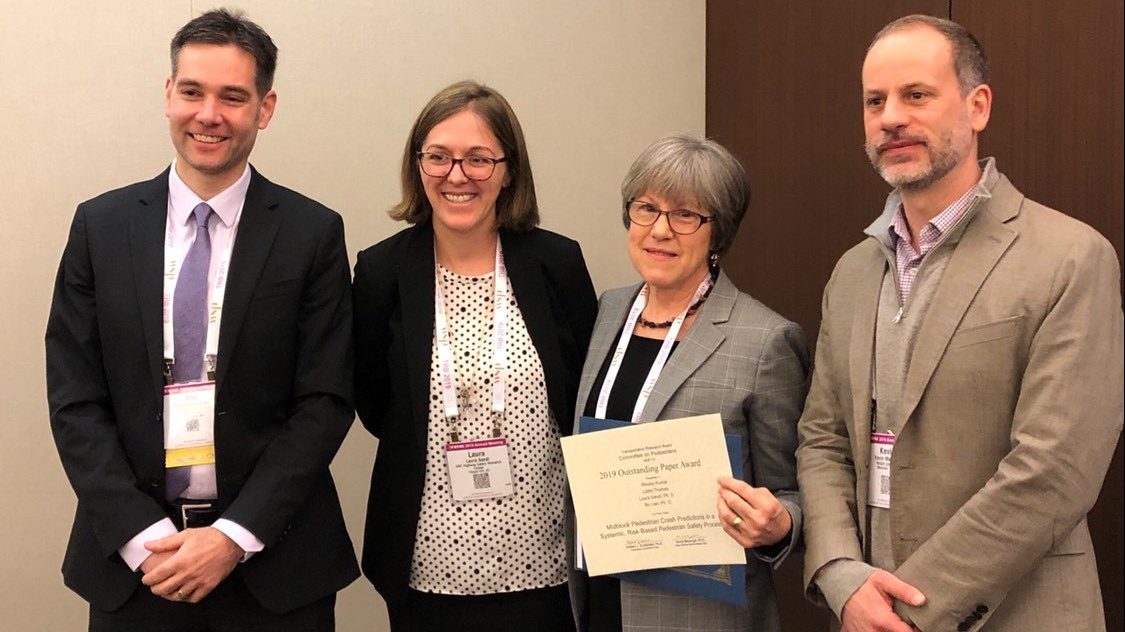 Like thousands of other transportation professionals across the globe, HSRC researchers flocked to the Transportation Research Board's 2019 Annual Meeting in January to moderate panel sessions, preside over poster presentations, chair committees and present research.
Of note this year, HSRC researchers were recognized with three outstanding paper awards at TRB:
Midblock Pedestrian Crash Predictions in a Systemic, Risk-Based Pedestrian Safety Process, written by Engineering Research Associate Wesley Kumfer (lead author) and Senior Research Associates Bo Lan, Laura Sandt, and Libby Thomas, (pictured above) won the 2019 Outstanding Paper Award from the Standing Committee on Pedestrians (ANF10).
According to Kumfer, the goal of this study was to develop a risk-based, systemic analysis approach that allows practitioners to identify risky locations for pedestrians based on a number of roadway, traffic, and spatial contexts, even if no crashes had previously occurred at these locations. To do that, the team built two crash prediction models using data from the City of Seattle, and cooperated with practitioners in Seattle's Department of Transportation to assess the outcomes and usefulness of those models.
"This award demonstrates the need for better pedestrian risk models and shows the importance of improving our current safety management processes," Kumfer said. "It was definitely a group effort, and it's encouraging that others see pedestrian safety and systemic analyses as important topics in the field."
This paper is an adaptation of the work conducted through TRB's NationalCooperative Highway Research Program 17-73 project and was presented in NCHRP Research Report 893: Systemic Pedestrian Safety Analysis.
The Standing Committee on Highway Safety Performance (ANB25) presented the 2019 Ronald C. Pfefer Best Paper Award to the author team led by Raghavan Srinivasan and Daniel Carter for the paper, A Before-After Evaluation of the Realignment of Horizontal Curves on Rural Two-Lane Roads. The paper was published in the May 15, 2018 issue of the Transportation Research Record: Journal of the Transportation Research Board.
This study determined the crash modification factors associated with curve realignment using the before-after empirical Bayes method and compared the results from published CMFs from cross-sectional studies.
This evaluation used data from rural, two-lane roads in California, North Carolina and Ohio and revealed the following (all of which were statistically significant at the 95 percent confidence level):
a 68 percent reduction in total crashes,
a 74 percent reduction in injury and fatal crashes,
a 78 percent reduction in run-off-road and fixed object crashes,
a 42 percent reduction in dark crashes, and
an 80 percent reduction in crashes during dark.
The Bicycle and Pedestrian Data Subcommittee (ABJ35(3)) presented the 2019 Outstanding Paper Award to the author team led by Senior Research Associate Krista Nordback for Minimizing AADNT Estimation Errors: How Many Counters are Needed per Factor Group?
This study provides new guidance for non-motorized monitoring and volume estimation based on extensive study of bicycle and pedestrian count data (from 102 sites in six cities: Arlington, VA; Boulder, CO; Mt. Vernon, WA; Portland, OR; San Diego, CA; and Seattle, WA). According to Nordback, accurate bicycle and pedestrian volume estimates inform safety studies, monitoring trends and infrastructure improvements.
"I have to say this award means a great deal to me," says Nordback. "This particular research project was my 'dream' project when it was first funded. Through a lot of hard work, successful teamwork with researchers across the country from one another, and perseverance, we not only came up with something great to write about, but a paper that became recognized nationally."