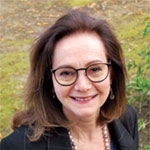 Randa Radwan
Director
919-962-8705
Randa Radwan joined HSRC as the Center's director on December 3, 2018. She has over 25 years of experience in transportation safety and vehicle crashworthiness research, including vehicle safety performance and advanced technologies, and fostering international partnerships with automakers, safety regulators, and other researchers.
Randa is a transportation safety engineer and began her career as a research program manager at the U.S. Department of Transportation's National Highway Traffic Safety Administration, where she directed research in side crash protection, vehicle upper interior protection, vehicle and restraint system model development, crash test instrumentation and signal analysis for 17 years. Randa led a multi-disciplinary research program from concept to notice for proposed rulemaking for NHTSA's 2007 Federal Motor Vehicle Safety Standard for side crash protection, which annually has been forecasted to save over 300 lives and reduce 400 serious injuries. She received multiple awards while at NHTSA, including the Secretary of Transportation Award and the NHTSA Administrator's Award four times.
Randa earned her Ph.D. in transportation safety engineering from George Washington University in 2015 while working full time as the director of advanced research and a senior research scientist at the University's National Crash Analysis Center. In this position, she directed innovative research in transportation safety, including vehicle fleet and occupant modeling, the characterization of frontal vehicle crashes, and roadside motorcycle crashes on state and national roadways, as well as guided visiting researchers to develop requirements of pedestrian pre-crash safety systems.
While at GWU, she also created strategy and modeling methodology to assess safety performance of new vehicle designs. The outcome was the Vehicle Fleet Simulation methodology used for NHTSA's Corporate Average Fuel Economy Standards and "Midterm Evaluation for Light-Duty Vehicles, Model Years 2022-2025" safety studies. Randa also served as adjunct faculty in GWU's School of Engineering and Applied Sciences, teaching graduate classes in vehicle safety standards, and crash investigations and analyses.
Randa has chaired and served on numerous Society of Automotive Engineers and Transportation Research Board panels, task forces, conference committees, public meetings and peer review teams. She is currently serving on the National Academies of Sciences, Engineering, and Medicine's committee on the Assessment of Technologies for Improving Fuel Economy of Light-Duty Vehicles, as well as the SAE Government/Industry Meeting General Committee. Additionally, Randa recently served as a subject matter and technical expert for advanced transportation technology programs for the U.S. DOT's Intelligent Transportation Systems Joint Program Office.
Randa has authored 29 peer-reviewed, professional publications on vehicle safety including two reports to the U.S. Congress. Along with a Ph.D., she holds master's and bachelor's degrees in electrical engineering from Rice University.