Recent Center Highlights
HSRC works across NC
While HSRC's research often has a national — and sometimes global — reach, our work close to home is always front and center. HSRC conducts a wide variety of road safety research and education activities in North Carolina each year including projects related to seatbelt use, traffic safety outcomes in Appalachian counties, and safe travel to school.
A few recent examples of HSRC's state-focused activities:
Child Passenger Safety (CPS) Technicians, individuals who are certified to provide education and hands-on assistance to help caregivers properly install and use car seats, need to earn six continuing education credits every two years to maintain their certification. The UNC Highway Safety Research Center has partnered with Safe Kids North Carolina and the Governor's Highway Safety Program to bring free, in-person training to rural communities around the state so that CPS Technicians in these communities can earn the education credits they need to continue their work to help caregivers keep kids safe.

HSRC researcher Seth LaJeunesse collaborated with partners at the UNC Center for Health Promotion and Disease Prevention's Food, Fitness and Opportunity Research Collaborative, Habitat for Humanity of Orange County, and Mobycon, for the Communities on the Move program. Launched in 2018, the program is designed to encourage higher levels of physical activity through active transportation and fostering community members' ability to shape their local environment through combined expertise in research, city planning, and pedestrian safety. One project focus for the past three years has been the Fairview Youth in Action Program, which was created to invite young people to lead efforts toward making their Fairview community in Hillsborough a safer, healthier, fairer, and more enjoyable place to live.
In June 2023, several HSRC researchers presented at the third annual NC Vision Zero Leadership Institute in Chapel Hill, NC. The Institute is a training opportunity for North Carolina communities with Vision Zero initiatives, or those who are considering the adoption of the initiative.

The HSRC team had a blast at the Durham Public Schools Acceler8 Career Exploration Day on October 24, 2023. Approximately 2,000 students got the chance to design their own safe roads and see a crash simulation with dolls and skateboards. It was a really fun day out in the community!
HSRC researchers are currently working on a project for the NC Department of Transportation that addresses access to the state's extensive ferry system. The project, entitled "Strengthening Access to NC Ferries to Support Coastal Community Resiliency, Health, and Mobility," involves identifying opportunities and developing resources for ferry access improvements.
---
HSRC on the road: Presenting research to diverse audiences
Sharing road safety research results and information is a key part of the work we do at HSRC, and our researchers and staff keep busy presenting and attending conferences each year. Recent notable activities include:
HSRC student Nandi Taylor presented the session "Examining the connections between historical redlining and present-day pedestrian fatalities across the United States, 2010-2019: Trends in disparities of traffic-related crashes, emergency department visits, and deaths in North Carolina, prior to and during the COVID-19 pandemic " at the Society for Advancement of Violence and Injury Research conference in April 2023.
Stephen Heiny and Nancy Pullen-Seufert presented and moderated workshops at the April 2023 Lifesavers Conference in Seattle, WA.
Raghavan Srinivasan presented two sessions at the TRB Safety Performance and Analysis Committee Midyear Meeting in June 2023.
Laura Sandt presented the session "What we don't know CAN hurt us: Data needs and opportunities to improve micromobility safety" at the July 2023 Traffic Records Forum in Nashville, TN.
Laura Sandt attended the August 2023 Executive Networking Conference hosted by the National Institute of Minority Economic Development in Pinehurst, NC.
Kristel Robison and Bevan Kirley presented the session "Creating CEU Sessions Techs Really Need (and Want to Attend)" at the August 2023 Kidz in Motion conference in Oklahoma City, OK.
Dan Gelinne, Stephen Heiny, and Kristin Blank presented a session called "Funding to Support Bicycling and Walking: Sources, Challenges, and Opportunities" at the NC BikeWalk Transportation Summit in Salisbury, NC, in September 2023.
Seth LaJeunesse shared statistics and discussed the Vision Zero movement in North Carolina during a virtual roundtable discussion with GoTriangle and NCVisionZero in October 2023. A recording of the Mission Impossible: Bike and Pedestrian Safety Webinar is available now.
---
New resource spotlight: Quick-build safety project in Cincinnati
Around the country, cities and communities are experimenting with pop-up and quick-build road safety projects. Using low-cost materials like paint, concrete wheel stops, and flexible posts, these projects offer community members and decision makers a chance to try temporary infrastructure improvements that can provide immediate safety improvements and identify what will work best for the community. A new resource from the Pedestrian and Bicycle Information Center and Vision Zero for Youth documents a resourceful, innovative project in Cincinnati, Ohio, that applied quick-build tools and techniques to address an urgent safety problem threatening child pedestrians that will stay in place until implementation of a full street redesign.
Cincinnati received a grant to support the project from the HSRC-led National Center for Safe Routes to School's pilot program of quick-build projects to improve road safety for youth. Made possible by General Motors (GM), the National Center provided grants of up to $10,000 to communities to fund low-cost, quick-build infrastructure improvements to provide immediate safety benefits in underserved areas where children walk and bike. Pursuing partnerships such as the one with GM has allowed the National Center to take a community-centered approach to improve road safety, to fund projects that will have a lasting impact, and to have the flexibility to adapt projects to respond to new information. To learn more about the intersection of quick-build projects and youth transportation safety, check out this recent webinar on Youth-Engaged Design and Quick Build Installation.
---
New HSRC staff and service milestones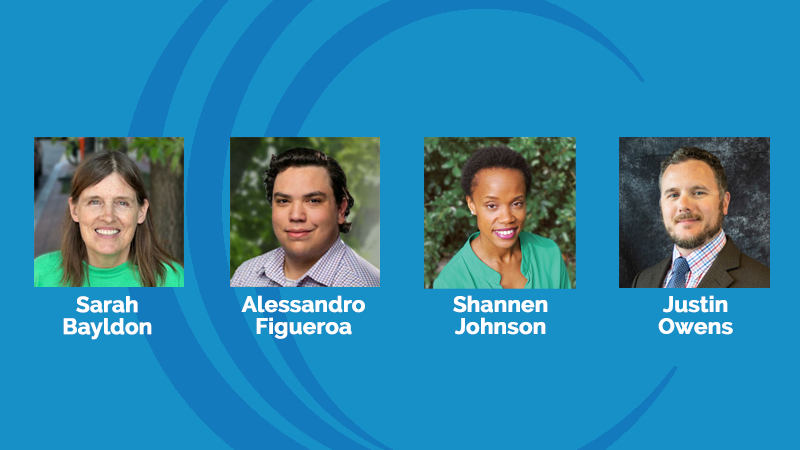 The HSRC team is growing, and we're happy to share details about some of the great new additions to our research and project management teams:
Sarah Bayldon, Research Technician
Sarah Bayldon joined HSRC as a Research Technician in September 2023. Based in Washington, DC, Sarah supports HSRC's National Capital Region Trail Monitoring project funded by the National Park Service. She has served on her city's Environmental Sustainability Council since 2008. Her background also includes coordinating the Operation EarthWatch program at a local elementary school, and working for the U.S. Department of Justice.
Alessandro Figueroa, Junior Research Associate
Alessandro Figueroa joined HSRC as a Junior Research Associate in October 2023. He is a graduate of the Health Equity, Social Justice, and Human Rights Master of Public Health program at UNC-Chapel Hill. His experience spans research, technical assistance, and resource development, including a Vision Zero Resource Library, while focusing on health equity, social justice, and human rights as they relate to transportation and road safety.
Shannen Johnson, Junior Research Associate
Shannen Johnson joined HSRC in September 2023 as a Junior Research Associate with a focus on program evaluation and older driver safety. Prior to joining HSRC, Shannen was a population health specialist with Duke Health, where she provided quality, education, and training measures for care managers working with specific patient populations across the health system.
Justin Owens, Senior Research Associate
Dr. Justin Owens, CPACC, is a Senior Research Scientist at HSRC. Justin specializes in the behavioral aspects of vulnerable road user (VRU) safety, including novice driver, child passenger, pedestrian, and bicyclist safety topics. Over the course of his career, Justin has conducted research addressing a wide range of safety problems using an array of research methodologies, including on-road, test-track and naturalistic studies of driver distraction and the safety impacts of electronic systems; developing effective outreach messaging to improve VRU safety and investigating the formative and evaluative aspects of successful outreach campaigns; evaluating the effects of cognitive distraction, fatigue, and mobile phone use on crash risk using a large-scale naturalistic dataset; investigating the driving performance of novice teen drivers with autism using on-road and simulator methodologies; and evaluating and improving the use of vehicle-related technology by senior drivers. Prior to joining HSRC in 2023, Justin worked as a Research Scientist at the Virginia Tech Transportation Institute.
At HSRC's staff picnic in September, we gathered together to celebrate a great year of work with fantastic colleagues. We also recognized the following years of service to HSRC (and the state) by our colleagues:
5 years
Courtney Blake
Wesley Kumfer
Michael Vann
Alyson West
10 years
15 years
30 Years
---
Recent HSRC highlights
2023 Highway Safety Scholarship Awarded to NC State Student
Thomas Thelen is the recipient of the 2023 Megan Cornog Memorial Highway Safety Scholarship. Thelen is pursuing a master's degree in civil engineering, with a focus on coastal safety and resiliency, at North Carolina State University. Read full announcement.
Lusaka, Zambia Receives Vision Zero for Youth International Leadership Award, US Leadership Award Now Open for Applications
The National Center for Safe Routes to School announced Lusaka, Zambia as the recipient of the 2023 Vision Zero for Youth International Leadership Award. The award recognizes the efforts of the capital and largest city of Zambia in creating strategic partnerships and changing nationwide speed limits to 30 kph (approximately 20 mph) in places where youth and people of all ages walk. A press release and case study share more about the steps the city took and their commitment to children and youth. US cities interested in sharing their success stories and accomplishments in making their roads safer for children and youth can now apply for the 2024 Vision Zero for Youth US Leadership Award. Any city, county, or local tribal government advancing child and youth walking and biking safety is encouraged to apply by December 16, 2023. The Vison Zero for Youth Leadership Award is given annually by the National Center for Safe Routes to School, in partnership with the FIA Foundation and the University of North Carolina Highway Safety Research Center.
Mark your calendars for the 2024 Safe Mobility Conference
HSRC and the AAA Foundation for Traffic Safety are pleased to announce the inaugural Safe Mobility Conference, to be held March 26-27, 2024. Read full announcement.
---
HSRC publications
HSRC researchers and staff regularly publish findings in peer-reviewed journals and present research results at professional meetings and trade conferences.
Did you know that HSRC scholarship is housed within a keyword searchable digital database? Browse all recent and archived HSRC scholarship on the HSRC Publications page, www.hsrc.unc.edu/publication.