Three HSRC Researchers Awarded Top NC Civilian Honors
CHAPEL HILL, N.C. (Dec. 21, 2017) –  The Governor of North Carolina awarded three of the state's highest civilian honors to UNC Highway Safety Research Center researchers: Bill Hall and Rob Foss were inducted in to the Order of the Long Leaf Pine; and HSRC Director David Harkey received the Old North State Award. These prestigious honors were bestowed upon the awardees by NC Governor's Highway Safety Program Dir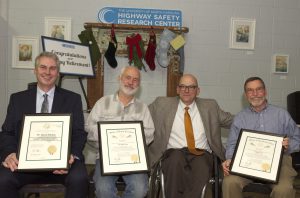 ector Mark Ezzell on behalf of Governor Roy Cooper during a retirement celebration in Chapel Hill on Monday, December 18.
"These three men have transformed traffic safety in North Carolina. Every parent with a child in a car seat, every motorcycle rider, every young driver learning the rules of the road owes a debt of gratitude to Bill Hall, Rob Foss and David Harkey," said Mark Ezzell, Director of the North Carolina Governor's Highway Safety Program. "Because of them, North Carolina is seen across the globe as a leader in traffic safety research and innovation."
The Order of the Long Leaf Pine is presented to individuals for their exemplary service to the state and their community that is above and beyond the call of duty. It is granted to citizens who have devoted their lives to serving others, and whose efforts have made a significant impact on and strengthened North Carolina.
Mr. Bill Hall, HSRC's resident occupant protection expert, helped spearhead efforts to increase seat belt and car seat use in North Carolina and across the country throughout his forty-year career. These efforts included educating and training parents, caregivers, health educators, police officers and the general public about how to safely transport children, as well as developing methods for conducting observational surveys of seat belt and car seat use. Hall was part of a small group of individuals across the country who had very large roles in changing U.S. culture to include widespread acceptance of the idea that children should be restrained when riding in cars. His efforts have protected a generation of kids who grew up riding safely in the car, and his impact will continue for generations to come. Hall is retiring at the end of 2017.
Dr. Rob Foss worked tirelessly throughout his career to help translate findings from research into understandable language and positive actions to improve safety. His commitment to improving the highway safety of North Carolinians, especially young drivers and motorcyclists, spans more than three decades. Dr. Foss and his HSRC colleagues developed and refined the graduated driver licensing system, which has become the nationally and internationally recognized approach to educate and train novice drivers about the complex task of safely operating a motor vehicle. The groundbreaking GDL system Dr. Foss helped design, which was based on research conducted in North Carolina, is the model for GDL systems now in place in every state across the country. Another of Dr. Foss's major contributions to the state was helping to study and communicate the importance of North Carolina's universal motorcycle helmet law. In part through his work, North Carolina has among the fewest un-helmeted motorcyclist fatalities in the nation. Dr. Foss retired from HSRC in July 2017.
The Old North State Award honors individuals who have provided exemplary service and commitment to North Carolina for 20 or more years.
Dr. Harkey is one of the nation's top experts on transportation safety and data, and has spent close to 25 years working to improve North Carolina's practice and reputation for excellence in research in the field. He has directed multiple impactful research projects related to highway safety, geometric design, roadside safety, traffic operations, large truck safety, and pedestrian and bicycle safety, and has led the Highway Information Safety System (HSIS), a roadway-based system that provides quality data collected by states on accident, roadway, and traffic variables. Dr. Harkey's leadership and expertise have helped attract tremendous funding and research to North Carolina. Most recently, he worked to secure a $15 million grant for UNC to lead one of the U.S. Department of Transportation's five national University Transportation Centers for the next five years. Dr. Harkey will retire at the end of 2017.
###
About the UNC Highway Safety Research Center
The University of North Carolina Highway Safety Research Center is working hard to help shape the field of transportation safety. HSRC is committed to excellence in sound research, and safety is the preeminent goal – every day and in every project staff undertakes. Birthplace of innovative national programs like Click It or Ticket, graduated driver licensing and Walk to School Day, the center's mission is to improve the safety, sustainability and efficiency of all surface transportation modes through a balanced, interdisciplinary program of research, evaluation and information dissemination. Learn more at www.hsrc.unc.edu.