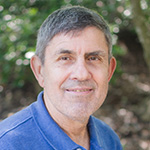 Eric Rodgman
Senior Database Analyst
919-962-8709
Eric Rodgman has been a vital part of the University of North Carolina (UNC) Highway Safety Research Center (HSRC) for more than 38 years. As a data specialist, computer analyst and co-researcher on many HSRC projects, Eric has also been recognized as a co-author or a lead author on more than forty-five research papers and project reports.
Most recently, Eric is involved with projects sponsored by the North Carolina Governor's Highway Safety Program (NC GHSP), largely focused on partnering with local traffic safety advocates and law enforcement agencies. He is also a co-chair of the North Carolina Traffic Records Coordinating Committee (NC TRCC), which brings together the major state data system owners in North Carolina. Eric assisted the NC GHSP, the NC TRCC and the HSRC with updating the 2012 North Carolina Traffic Records Assessment and several versions of the North Carolina Traffic Records Strategic Plan.
Eric has been recognized by many organizations for his work in highway safety research. He was awarded "Best Scientific Paper" twice by the Association for the Advancement of Automotive Medicine (1985, 1989). Prior to that, Rodgman was responsible for the data used in the paper titled "The Risk of Dying in Alcohol-related Automobile Crashes among Habitual Drunk Drivers," which won the 1995 Charles C. Shepard Award for its authors. In 1992 HSRC and Rodgman were recognized in Cologne, Germany by the International Committee on Alcohol, Drugs and Traffic Safety for its continued research in this field.
Prior to his work at HSRC, Eric designed traffic crash report forms and computerized traffic crash report record systems for the governments of Kuwait and Surinam as a private consultant. Eric earned his bachelor's degree in mathematics at UNC and his M.P.H. from the Biostatistics Department in research data management at UNC. In his free time, Eric is an active runner, soccer, basketball and tennis player, a high school tennis coach, an Elder in his church and a father of three.