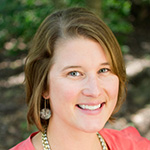 Caroline Mozingo began serving as the senior manager of communications, education and outreach for the University of North Carolina (UNC) Highway Safety Research Center (HSRC) in January 2012. She leads HSRC's internal and external communications, strategic development and education efforts and supports individual project communications needs. Previously, Caroline served as the communications and marketing manager for the National Center for Safe Routes to School, which is housed within HSRC.
In her efforts to promote and communicate Center and project activities, Caroline is the primary media contact for HSRC, arranging interviews and press briefings, and proactively disseminating key research findings to transportation, health and safety practitioners, state and national-level policymakers, and researchers. She leads development of HSRC communications materials, including the Center's annual report, Directions e-newsletter and website. Caroline also continues to lead partnership development and communications strategy for the National Center for Safe Routes to School.
In addition, Caroline works with the associate directors of the Collaborative Sciences Center for Road Safety to develop and implement the Center's education and workforce development programs. She is responsible for managing all CSCRS outreach activities including websites, social media, webinars, conferences and workforce trainings.
Before joining the transportation research world in 2009, Caroline was a manager at RF|Binder Partners, a strategic communications and public relations firm in New York City, where she gained a range of media strategy, community relations and crisis communications experience. Her efforts with the media have resulted in national level coverage and her event planning and management experiences range from international media launches to large-scale event planning. Caroline earned her bachelor's in journalism and mass communication from UNC-Chapel Hill.