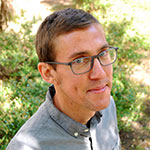 Seth LaJeunesse
Senior Research Associate
Assistant Director, National Center for Safe Routes to School
Seth LaJeunesse joined the University of North Carolina (UNC) Highway Safety Research Center as a Research Associate in 2010. Seth evaluates behavioral interventions designed to enhance bicycle and pedestrian safety and access, and designs studies that draw from psychology, sociology, and systems science. He primarily focuses on studying youth traffic safety and discerning ways to accelerate the diffusion of effective road safety practice.
Seth serves as the principal investigator of several state and federally funded research endeavors, including projects funded by the NC Department of Transportation, NC Governor's Highway Safety Program, the Collaborative Sciences Center for Road Safety—a National University Transportation Center funded by the U.S. Department of Transportation, and the U.S. Department of Agriculture. Across all research projects, he aims to advance safe, equitable access to physical activity and community life.
Seth is a member of the American Planning Association and TRB's Pedestrians Committee. He has a certificate of advanced graduate studies in school psychology from Duquesne University and a master's degree in city and regional planning from the University of North Carolina at Chapel Hill. Seth lives with his wife in Carrboro, NC where they hike, bicycle, walk, and champion conviviality.