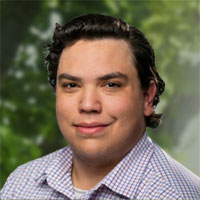 Alessandro Figueroa
Junior Research Associate
Alessandro Figueroa joined HSRC as a Junior Research Associate in October 2023. He specializes in health equity, social justice and human rights as they relate to transportation and road safety, working to connect the fields of health equity and transportation safety to maximize positive health across all communities. His work spans research, technical assistance, and resource development, including a Vision Zero Resource Library. 
Alessandro approaches public health challenges with a unique and interdisciplinary perspective. He previously explored the intricacies of how global and domestic political systems shape policies that directly and indirectly impact vulnerable communities. His prior work on human rights research initiatives fostered a deep sense of empathy and dedication to improving the lives of marginalized populations, as well as a recognition of the essential role of inclusivity in driving positive health outcomes.
Alessandro is a graduate of the Health Equity, Social Justice, and Human Rights Master of Public Health (MPH) program at UNC-Chapel Hill.