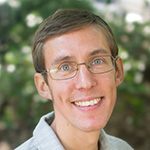 Seth LaJeunesse
Research Associate
Assistant Director, National Center for Safe Routes to School
919-962-4236
Seth LaJeunesse joined the University of North Carolina (UNC) Highway Safety Research Center (HSRC) as a research associate/project coordinator in the summer of 2010. At HSRC, Seth co- manages a database, engages in data-related consultation and performs data analysis for the National Center for Safe Routes to School.
Seth recently coordinated a National Highway Traffic Safety Administration-funded project called the Pedestrian Safety Workshop: A Focus on Older Adults. The workshop is designed to convene older adult community members and motivated decision-makers toward enhancing older pedestrian safety within a variety of settings. Seth reviewed instructional materials for the workshop and developed survey instruments to assess individual and community-level behavior change related to older pedestrian safety.
Seth has masters degrees in child psychology from Duquesne University and city and regional planning from UNC-Chapel Hill. He is a member of the American Planning Association, the Town of Carrboro Transportation Advisory Board and a co-founding member of the non-profit Carrboro Bicycle Coalition. Seth's research interests include intersections between psychology and human-powered travel. He has particular interest in examining psychological determinants of mode choice decision-making, and accumulated benefits of time interacting with natural environments.