HSRC News Briefs
New Walk Friendly Communities announced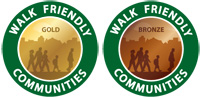 Gold: Eugene, OR and Corvallis, OR. Bronze: New Orleans, LA and Forest Park, IL.
The Pedestrian and Bicycle Information Center (PBIC) announced in April three new Walk Friendly Communities across the nation and one that elevated its status. This "Walk Friendly" designation means the city or town is being recognized for success in working to improve a wide range of conditions related to walking, including safety, mobility, access and comfort. PBIC recognizes the following four communities for their commitment to improving walkability and pedestrian safety:
Gold Level: Eugene, OR; Corvallis, OR.
Bronze Level: New Orleans, LA; Forest Park, IL.
To learn more about selection criteria, browse a complete list of all 24 Walk Friendly Communities across the nation, and view information on how to apply for the next round of selections, visit www.walkfriendly.org.
The Pedestrian and Bicycle Information Center, funded by the U.S. Department of Transportation Federal Highway Administration, is maintained by HSRC in cooperation with the Association of Pedestrian and Bicycle Professionals (APBP). For more information, visit
www.pedbikeinfo.org
.
HSRC publications and presentations
HSRC Senior Transportation Research Engineer Raghavan Srinivasan, Ph.D., at the 2012 TRB meeting.
HSRC researchers and staff regularly present and publish findings via transportation, safety, research, public health and other trade conferences and venues.
In January, HSRC researchers and staff were among the 11,000 national and international transportation professionals who gathered in Washington, D.C. for the 91st Annual Meeting of the Transportation Research Board (TRB). The 2012 TRB Annual Meeting covered all transportation modes with more than 4,000 presentations in nearly 650 sessions and workshops – including many from HSRC – spotlighting the 2012 theme, "Transportation: Putting Innovation and People to Work."
To browse a complete list of recent HSRC publications and presentations, click
here
.
In remembrance
Our team and the HSRC family is saddened to share news of the passing of a dear friend and long-time colleague Mary Ellen Tucker. Mary Ellen has been an important part of our team for the last 19 years. Many of you may have worked with her in her role as HSRC librarian and member of the TRB Committee on Library and Infromation Science for Transportation. Away from the Center, Mary Ellen was an avid gardener and student of the Japanese martial art, Aikido. We plan to include a full memorial in the next issue of Directions.
Upcoming HSRC events
HSRC is helping plan and/or host several events this spring. Take a look and mark your calendars:
BikeAbility (Saturday, April 21, 9 a.m.-12 p.m., 6850 Millhouse Rd.)
HSRC staff will volunteer at the Chapel Hill BikeAbility event on Saturday, April 21, where children and adults with special needs and their siblings will learn about safe bike riding techniques that will make the roads safer for everyone. Participants will also try a variety of adaptive bikes. For more information, call (919) 968-2813.
HSRC staff changes
HSRC is a great place to work. We are pleased to welcome the following new staff members to the HSRC team:
Caroline Dickson joined HSRC as senior manager of communications, education and outreach in January. She will lead HSRC's internal and external communications, strategic development and education efforts and support individual project communications needs. Previously, Caroline served as the communications and marketing manager for the National Center for Safe Routes to School, which is housed within HSRC, and as a manager for RF|Binder Partners, a strategic communications firm in New York City. Caroline can be reached at dickson@hsrc.unc.edu or (919) 962-5835.
James Gallagher joined HSRC as the Pedestrian and Bicycle Information Center's communications manager in February. He is responsible for managing the marketing and communications needs of the Center, including leading webinars, producing newsletters and press releases, and managing public service campaigns. Previously, James served as communications manager for the Chapel Hill-based Center from American Support and, prior to that, spent a decade working as a newspaper editor and journalist. James can be reached at james@hsrc.unc.edu or (919) 843-7007.
Patty Harrison joined HSRC as communications coordinator in March and is responsible for a number of communications and outreach initiatives for the Center, including the production of this newsletter. Prior to joining HSRC, Patty worked as a communications specialist for the Florida Dental Association, and as the managing editor of the association's scientific journal. Patty entered the marketing/communications world after several years in broadcast reporting in Great Falls, MT and Tallahassee, FL. Patty can be reached at harrison@hsrc.unc.edu or (919) 843-4859.
Graham Russell began working at HSRC as a graphic designer in January. With Design Services Manager Jonathon Weisenfeld, Graham serves the Center's various print design, web design and multimedia needs. Graham, a UNC alumnus, previously worked as a designer at The News & Observer and as a freelance writer, editor and web developer. Graham can be reached at russell@hsrc.unc.edu or (919) 962-0167.
Linette Tyson joined HSRC as human resource facilitator and executive assistant in February and is responsible for all aspects of human resources management at the Center and serves as the executive assistant to the Center director. Prior to joining HSRC, Linette was employed as the business services coordinator for the Gene Therapy Center at the University of North Carolina. Linette can be reached at (919) 962-7410 or tyson@hsrc.unc.edu.

Jonathon Weisenfeld joined HSRC in December 2011 as design services manager, overseeing the print and web design activities of the HSRC and its projects. Before joining the HSRC team, Jonathon worked as the creative director for Performance Bicycles and staff designer for Global Knowledge Training. He earned his BFA in Visual Communications from Auburn University. Jonathon can be reached at Jonathon@hsrc.unc.edu or (919) 843-1936.
HSRC in the News
The following is a highlight of recent media stories that include information and research from the Center. Web links to the following news stories are time sensitive, so some stories might not be accessible after the initial publication date without required registration. To access more archived news media, please visit www.hsrc.unc.edu/news_room/archived_news.cfm.
Top Teen Driver Distraction? Electronic Devices, Says AAA Study
Family Car Guide
March 27, 2012
AAA report: Teenage girls more likely to use cell phone in car
Delaware Online
March 27, 2012
Study: Girls more likely to text, call while driving
Tampa Tribune
March 27, 2012
States enacting more restrictions on young drivers
Asbury Park Press
March 20, 2012
Graduated driver's licenses: Opinions, policies vary
USA Today
March 16, 2012
New fee is keeping students out of driver's ed
WRAL
March 13, 2012
Declining Driver Ed Enrollment Prompts Safety Concerns, Money Woes
Raleigh Public Record
March 12, 2012
Teen driving deaths up in NC
Asheville Citizen-Times
March 11, 2012
Cells, driving don't mix
The Daily Tar Heel
February 22, 2012
Lawmaker: Skip inspections for new cars
The Charlotte Observer
November 1, 2011
Inconsistency and cheating weaken vehicle inspections
The Charlotte Observer
October 30, 2011