HSRC News Briefs
HSRC researcher presents paper at ICADTS in Scotland
HSRC Senior Research Associate Arthur Goodwin presented a research paper entitled "A Social Norms Approach to Reduce Drinking-Driving Among University Students" at the 2004 International Council on Alcohol, Drugs and Traffic Safety (ICADTS) Triennial Meeting in Glasgow, Scotland.
The paper summarized findings from a groundbreaking, on-campus alcohol study conducted by Center researchers. In 1997, with strong support from university officials, HSRC began a first-of-its-kind study of drinking among UNC students by taking voluntary, anonymous breath-alcohol measurements as students returned to their residences in the late evening (10 p.m. to 3 a.m.) on all nights of the week. They found that on traditional "party" nights – Thursday, Friday and Saturday – two out of three students returned home with a zero blood alcohol concentration (BAC).
Based on this research, a comprehensive social norms campaign, dubbed the "2 out of 3" program, was launched in the summer of 1999. Social norms programs are designed to correct misperceptions about drinking by presenting accurate information about student alcohol use. The "2 out of 3" campaign was sustained for four years and included interactive presentations at first-year student orientation sessions, posters, newspaper ads, curriculum infusion, and a web site. Additional surveys were conducted in the fall of 1999 and 2002 to assess short- and long-term effects of the campaign. Overall, 6,300 undergraduate UNC students were interviewed during the study.
The results showed an 11 percent decrease in drinking among surveyed drivers. The average BAC of drivers who had been drinking decreased from .043 to .022. In addition, among drivers who had been drinking, the percent who registered a zero BAC increased from 16 percent to 46 percent. That is, though they had been drinking it was so little that it was out of their system when they drove. Those drivers registering a BAC over .05 decreased from 40 percent in 1997 to 16 percent in 2002.
ICADTS is "an independent nonprofit organization aimed at reducing mortality and morbidity brought about by misuse of alcohol and drugs by operators of vehicles in all modes of transportation."

HSRC director serves as co-chair of TRB subcommittee on School Transportation
The Transportation Research Board (TRB) has formed a new subcommittee on school transportation to address issues impacting the safety, security, health and quality of school travel. The Center's director, Dr. Doug Robertson, will serve as co-chair of the subcommittee along with Jeff Tsai, director of the Pupil Transportation Group at the Institute for Transportation Research and Education. The subcommittee meets annually at the TRB Annual Meeting held in Washington , D.C.
2004 International Walk to School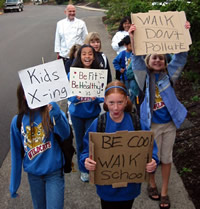 On Wednesday, October 6, 2004 , students, parents, and community leaders across the United States and around the globe celebrated a simple but all too rare act – the walk to school. Celebrating eight years of promoting walking, International Walk to School Day brought together more than 3 million people from 36 countries around the world.
The idea is to walk to school together with a purpose – to promote health, safety, physical activity and concern for the environment. Walk to School Day brings together community coalitions that push for safety improvements for pedestrians, increased physical activity and local government policy changes. Established in the United States in 1997 by the Partnership for a Walkable America, the event was expanded in 2003 to International Walk to School Week, offering schools around the world the opportunity to increase their efforts, such as incorporating safety programs into classroom curriculum and hosting safety-themed events.
To learn more about Walk to School Day, visit www.walktoschool.org. The Web site includes resources such as health information, details on events across the United States and a downloadable checklist to assess the walkability of a community. More information about the Partnership for a Walkable America and access to an interactive version of the checklist is available through www.walkableamerica.org.
AAAM presents Best Scientific Paper Award to HSRC researchers
Dr. Jane Stutts, HSRC's associate director for social and behavior research, accepted the Best Scientific Paper Award from the Association for the Advancement of Automotive Medicine (AAAM) during the organization's 48th annual meeting.
The award was given for "Causes and Consequences of Distraction in Everyday Driving," a paper based on research funded by the AAA Foundation for Traffic Safety. Paper authors were Jane Stutts, John Feaganes, Eric Rodgman, Charles Hamlett and Donald Reinfurt of HSRC and Kenneth Gish, Michael Mercadante, and Loren Staplin of TransAnalytics. The paper was published in the 47th Annual Conference Proceedings.
According to AAAM, the award recognizes "high-quality research in new and sometimes controversial areas."