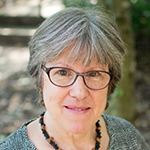 Libby Thomas
Senior Research Associate
919-962-7802
Libby joined the staff of the University of North Carolina (UNC) Highway Safety Research Center (HSRC) in 2001. As a senior research associate for the Center, Libby's primary focus areas include bicycle and pedestrian safety and crash causes including environmental and driver risk factors such as speeding and aggressive driving.
Libby has served as the principal investigator or key researcher on a number of national, state and local studies that have examined roadway and behavioral crash factors and identified appropriate countermeasures. She has also conducted pedestrian and bicyclist safety and access research and worked with agency representatives and project staff to develop evidence-based case studies, published guides, and interactive tools and resources to help states and communities make safety improvements. Results of her research have been presented at national conferences and can be found in a variety of published reports and articles.
In addition to her research work at HSRC, Libby is the founder and co-chair since 2011 of the joint subcommittee on Traffic Speed and Safety of the Transportation Research Board, a division of the National Academies of Science. Libby holds a M.S. in biology from Wake Forest University and a B.S. in business administration from UNC-Chapel Hill.