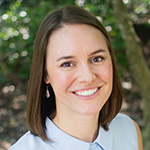 Kristen Brookshire
Research Associate
919-962-2973
Kristen Brookshire joined the University of North Carolina (UNC) Highway Safety Research Center in 2012. In her role as a research associate, she is focused on conducting and supporting research and programs related to bicycle/pedestrian safety and mobility.
Kristen is currently helping to manage a multi-year effort to improve safety for child pedestrians in Wake County, North Carolina. The grant-funded project involves working with a broad coalition of partners to affect policy change while working closely with five schools to pilot Safe Routes to School programs that will serve as examples for implementation across the more than 170 schools in the district.
Recently completed NHTSA-funded projects include a primer for highway safety professionals on a comprehensive approach to improving safety for bicyclists and pedestrians and an evaluation of child pedestrian safety curriculum implementation. She has also contributed updates to FHWA materials like BIKESAFE and A Resident's Guide for Creating Safer Communities for Walking and Biking.
Through the FHWA-sponsored Pedestrian and Bicycle Information Center and the Walk Friendly Communities program, Kristen continues to develop resources and provide technical assistance related to planning, designing, and developing programs that support a safe and comfortable environment for walking and bicycling.
Kristen has a master's degree in city and regional planning, with a concentration in transportation, from UNC-Chapel Hill and a bachelor's degree from the University of California, San Diego, where she completed a double major in urban studies and planning and sociology. She is a member of the American Planning Association and a co-chair of the Transportation Research Board's Joint Subcommittee on Pedestrian and Bicycle University Education.