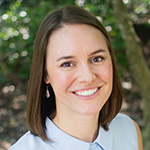 Kristen Brookshire
Research Associate
919-962-2973
Kristen Brookshire joined the University of North Carolina (UNC) Highway Safety Research Center in 2012. In her role as a research associate, she is focused on conducting and supporting research and programs related to bicycle/pedestrian safety and mobility.
Kristen has developed guidance documents and research reports for a variety of audiences, including a primer for state highway transportation officials, transportation course materials for university instructors, and she is currently leading the effort to develop a "state of knowledge" report for NHTSA on pedestrian and bicycle safety. She has also contributed to projects about facility design and countermeasure selection, including the Guide to Improving Pedestrian Safety at Uncontrolled Crossing Locations and BIKESAFE: Bicycle Safety Guide and Countermeasure Selection System.
Kristen also works on projects about Safe Routes to School and child pedestrian safety. She is currently managing a multi-year effort with a broad coalition of partners in Wake County, North Carolina to pilot SRTS programs and facilitate the adoption of supportive policies and she has participated in an evaluation of child pedestrian safety curriculum implementation.
Through the FHWA-sponsored Pedestrian and Bicycle Information Center and the Walk Friendly Communities program, Kristen continues to develop resources and provide technical assistance related to planning, designing, and developing programs that support a safe and comfortable environment for walking and bicycling.
Kristen has a master's degree in city and regional planning, with a concentration in transportation, from UNC-Chapel Hill and a bachelor's degree from the University of California, San Diego, where she completed a double major in urban studies and planning and sociology. She is a member of the American Planning Association, Association of Pedestrian and Bicycle Professionals, Institute of Transportation Engineers, and a co-chair of the Transportation Research Board's Joint Subcommittee on Pedestrian and Bicycle University Education.
Kristen lives in Chapel Hill, NC with her husband and daughter. Outside of work she enjoys swimming, rousing games of peek-a-boo, and pretending like she has time to read the newspaper.