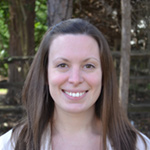 Sarah Smith
Engineering Research Associate
919-966-4577
Sarah Smith is an engineering research associate at the University of North Carolina Highway Safety Research Center (HSRC). She joined the staff in 2008 and has served as a project engineer for projects for the Federal Highway Administration, the National Highway Traffic Safety Administration, the National Cooperative Highway Research Program and the North Carolina Department of Transportation. Her research experience includes the areas of roadway and safety data, countermeasure evaluation and large truck safety. She assists in handling data collection and analysis for many types of highway safety studies.
Prior to her employment at HSRC, Sarah worked for the Insurance Institute for Highway Safety (IIHS). At IIHS, Sarah's assignments included high speed vehicle crash testing, low speed rear impact crash testing, data analysis, assessment of vehicle ratings, and reporting of test findings and results.
Sarah earned her B.S. in Mechanical Engineering from the University of Virginia. She enjoys spending her free time with her husband, three daughters and yellow lab. Sarah and her family live in Richmond, VA.