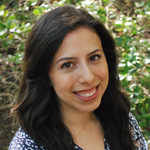 Marie Melendez
Communications Specialist
919-962-8713
Marie Melendez joined HSRC in February 2018 as a Communications Specialist.
She is responsible for  producing communications materials, coordinating and managing special events, social media efforts, and managing website content for HSRC and its national programs (National Center for Safe Routes to School, the Collaborative Sciences Center for Road Safety, Highway Information System, Bike to School Day, and Walk to School Day). 
Prior to joining HSRC, Marie was a Communications Assistant for the North Carolina Clean Energy Technology Center at NC State University. In this role, she focused on providing marketing and public relations support, developed social media strategies, and coordinated large-scale conferences and events.
Marie is a Texas native and earned her bachelor's degree in Communications from the University of Texas. In her spare time, she teaches yoga and enjoys traveling.