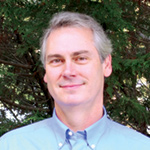 David Harkey is the director of The University of North Carolina Highway Safety Research Center (HSRC). He has over 30 years of experience in the field of transportation safety research, including the past 22 with HSRC. David has managed more than 30 major research projects and authored over 70 articles and research reports for federal, state and private sponsors. He currently serves as the principal investigator for the Federal Highway Administration's Highway Safety Information System.
David has conducted research for the Federal Highway Administration, National Cooperative Highway Research Program, National Highway Traffic Safety Administration and Insurance Institute for Highway Safety, as well as several state departments of transportation. Throughout his career, he has directed multiple research projects related to highway safety, geometric design, roadside safety, traffic operations, large truck safety, and pedestrian and bicycle safety. He has directed efforts to improve safety data for researchers, establish strategies for enhanced safety analysis and develop training materials for safety practitioners.
David also serves as the director of the Collaborative Sciences Center for Road Safety, a new National University Transportation Center funded by the U.S. Department of Transportation. He has oversight responsibilities for the Center and works to establish direction for CSCRS activities. He is responsible for ensuring compliance with all UTC program requirements including fiscal management and reporting.
David holds a Ph.D. in civil engineering from North Carolina State University and M.S. and B.S. degrees in civil engineering from the University of North Carolina at Charlotte. He is actively involved in several professional organizations including the Transportation Research Board (TRB), Institute for Transportation Engineers and Association of Traffic Safety Information Professionals. He currently serves as the chair of the TRB Safety and Systems Users Group. He is also a member of the NCDOT Executive Committee for Highway Safety.