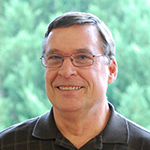 Bill Hall
Manager, Occupant Protection Program
919-962-8721
Bill Hall is the University of North Carolina Highway Safety Research Center's (HSRC) expert in occupant protection – including seat belts, air bags and child passenger safety. He is also HSRC's expert on senior driver safety and mobility issues. Bill has also been involved in a wide range of other projects with HSRC colleagues ranging from large truck crash analysis and studying the transportation of mobile homes on North Carolina roadways to efforts to promote highway safety and injury reduction programs among diverse populations.
Bill has a rich history in transportation safety research and advocacy. In the late 1970s and early 1980s, Bill helped to spearhead the HSRC's efforts to increase seat belt and safety seat use in North Carolina. These efforts have included educating and training parents, care-givers, health educators, police officers and the general public about how to safely transport children, as well as helping to develop methods and procedures for conducting observational surveys of seat belt and car seat use.
In the early 1990s, Bill served as a lead instructor for statewide child passenger safety workshops sponsored by the National Highway Traffic Safety Administration (NHTSA). In 1998, he helped develop NHTSA's Standardized Child Passenger Safety Technician training curriculum for certified child passenger safety Technicians and has helped to develop North Carolina-specific child passenger safety training curriculum. More recently, he has served as co-chair of the North Carolina Department of Transportation Executive Committee for Highway Safety Older Driver Safety Working Group and the North Carolina Senior Driver Safety Coalition.
Bill served as a member of the National Child Passenger Safety Board from 1999-2001 and is a current member of the Executive Committee of the North Carolina Child Passenger Safety Training Program and the Transportation Research Board (TRB) Occupant Protection Committee. He is also affiliated with the TRB Transportation Safety Management Committee, the School Transportation Subcommittee and the Safe Mobility for Older Persons Committee. Bill earned his B.A. in sociology and psychology at Catawba College and his M.A. in sociology at Duke University.