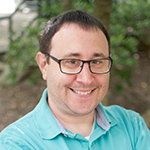 Matthew Glassman
Technical Support Analyst
919-843-1851
Matthew Glassman joined the University of North Carolina (UNC) Highway Safety Research Center (HSRC) family in spring 2009. He is responsible for day-to-day upkeep of end user computing and troubleshooting, as well as researching newer technologies.
Matthew earned his B.S. in business administration (concentration in information systems) from Appalachian State University. Prior to joining HSRC, Matthew enjoyed utilizing his information technology skills for UNC's School Of Pharmacy and Lulu.
In his spare time, Matthew enjoys attending the theater, playing soccer, traveling, baking, dancing and listening to NPR's irreverent news quiz "Wait, Wait, Don't Tell Me!," among other hobbies.