HSRC celebrates 50 years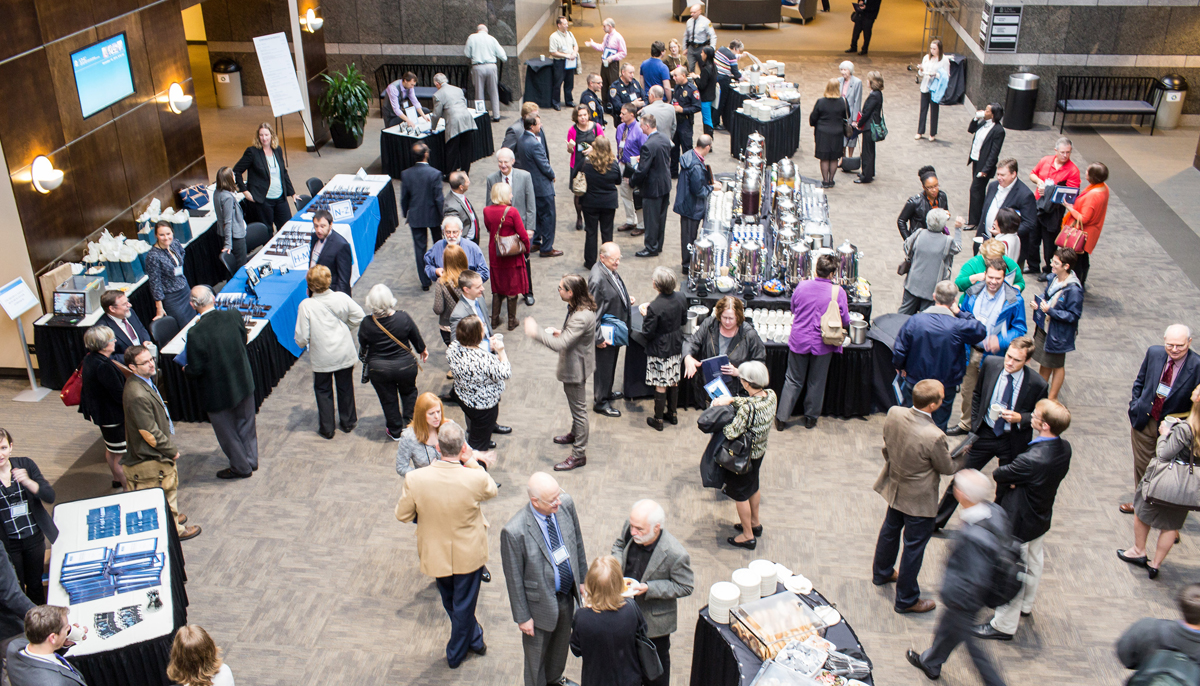 The UNC Highway Safety Research Center (HSRC) reached an important milestone this year – 50 years of research, program development and training since the Center was established in 1965!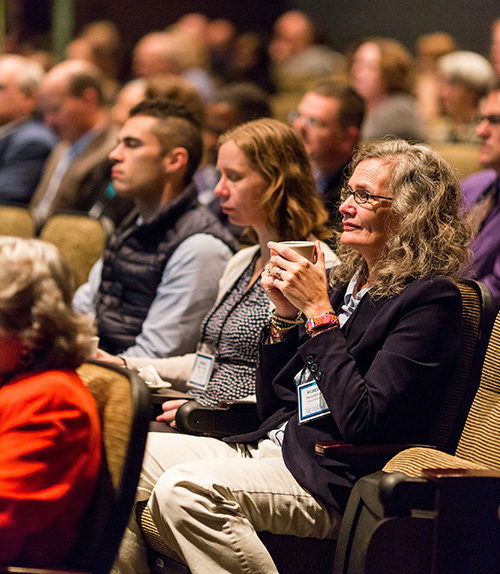 While it is important to remember our origins, it is also critical to look "down the road" to consider what challenges lay ahead and to determine what role HSRC may have in making a difference. With that goal in mind, we decided to celebrate our history with a look toward the future of transportation research.
More than 200 of HSRC's colleagues, partners and peers gathered in Chapel Hill on Nov. 10 for a transportation symposium, The Next 50 Years in Highway Safety: Connecting People and Technologies. Rich conversations about connected and autonomous technologies, vehicle infrastructure, policy and regulatory challenges, and human behavior were sparked during each of the symposium's morning, keynote and afternoon sessions.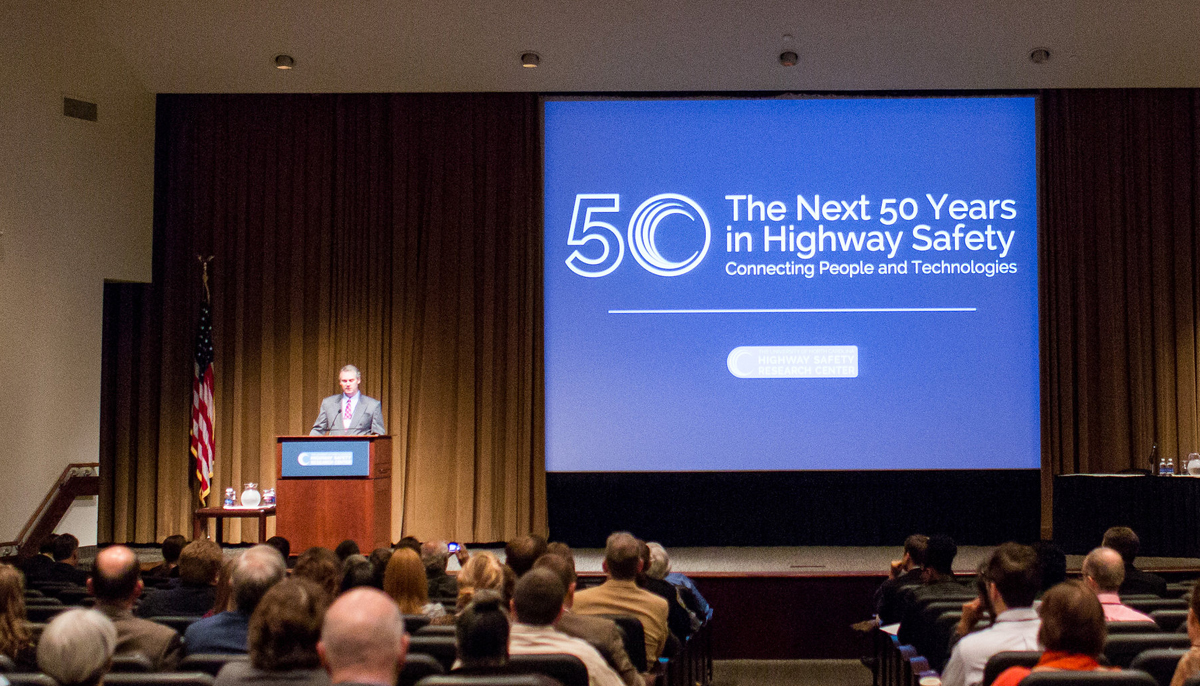 We also took time to celebrate our past. The luncheon program honored two people who were an important part of HSRC from the very beginning – former Gov. Dan K. Moore, who helped establish HSRC, and founding director Dr. B.J. Campbell.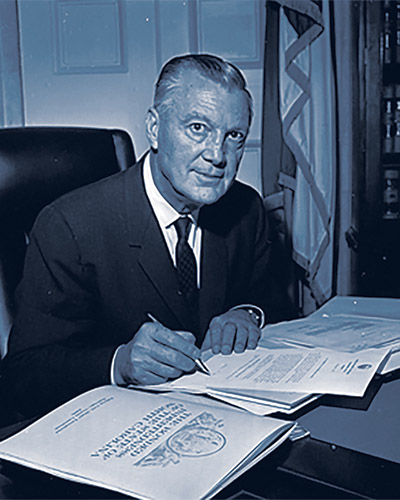 Gov. Moore recommended the creation of a highway safety research center within the University of North Carolina as part of a special message on traffic safety, given to the North Carolina General Assembly more than 50 years ago. Thanks to his urging, HSRC was born! In the spirit of Gov. Moore's concern for the safety of the people of North Carolina, HSRC recognized the governor by supporting a program for the most vulnerable of our citizens – our children.  A donation was made to the UNC Children's Promise Fund in memory of Gov. Moore and in honor of the Moore family. This donation will be used by UNC Hospitals to purchase car seats and booster seats to be given to children who have been involved in a car crash and as a consequence of the crash no longer have a safe and appropriate seat to get them home from the hospital. Thank you to Gov. Moore's daughter and son who joined us at the symposium for this announcement.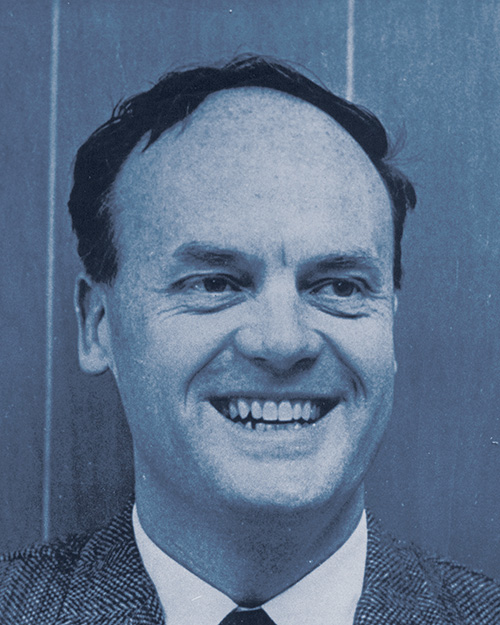 Our other honoree, Dr. Campbell, was recruited to lead the Center in 1965, and he remained director until his retirement in 1992. Campbell's dedication to training and encouraging young researchers at the Center was core to the success of HSRC in the early days and remains part of our philosophy today. HSRC announced a new research assistantship that will be offered in honor of Dr. Campbell, which was accepted by his wife and daughter during the Center's anniversary celebration. The B.J. Campbell Transportation Safety Research Assistantship will be awarded to one full-time master's level graduate student annually.
The luncheon session can be viewed online in three parts – remarks from Sec. Nick Tennyson, the recognition of Dr. Campbell and Gov. Moore and the keynote address by Tom Vanderbilt, author of "Traffic: Why We Drive the Way We Do."
Thank you to everyone who was able to participate in the symposium, as well as to those of you who celebrated with us from afar. Here's to another impactful 50 years at HSRC!
Thank you to the following guests who made this event possible.
Special guest speakers:
Forrest Council, Senior Research Scientist and Former Director, UNC Highway Safety Research Center
Don Nail, Director, North Carolina Governor's Highway Safety Program
Nick Tennyson, Secretary of Transportation, North Carolina Department of Transportation
 
Keynote speaker:
Tom Vanderbilt, best-selling author of "Traffic: Why We Drive the Way We Do"
Session speakers:
Mary Cummings, Director, Humans and Autonomy Lab, Pratt School of Engineering, Duke University
Anders Eugensson, Director of Governmental Affairs, Volvo Car Corporation
Adrian Lund, President of the Insurance Institute for Highway Safety
Jeffrey Paniati, Executive Director and CEO, Institute for Transportation Engineers
Bryant Walker Smith, Assistant Professor, University of South Carolina School of Law and (by courtesy) School of Engineering; Affiliate Scholar, Center for Internet and Society at Stanford Law School
Participation in the symposium resulted in four hours of professional development for technical content covered during the day. Symposium participants who would like a letter confirming their attendance may contact Patty Harrison at harrison@hsrc.unc.edu for additional information.