HSRC News Briefs
HSRC Celebrates 50 Years: Save the Date for a Safety Symposium on Nov. 10
Excitement is building at HSRC as we approach our 50th anniversary! Highway safety has come a long way since the North Carolina General Assembly established HSRC in 1965 and HSRC is proud to have been able to contribute to these successes -- making roads safer for motorists, pedestrians and bicyclists.
Please mark your calendar for Tuesday, Nov. 10, 2015, to help us celebrate. HSRC will be hosting a safety symposium in Chapel Hill; more details coming soon!
Watch for Me NC announces new partners
Watch For Me NC, the North Carolina Department of Transportation's statewide pedestrian and bicycle safety campaign, now in its fourth year, announced new partners in April. These 2015 partner communities will receive printed materials and advertisements to help improve public awareness of pedestrian and bicyclist safety. They will also participate in specialized police officer enforcement training. HSRC will continue to provide technical support with campaign implementation.
HSRC welcomes the following new partners:
Asheville
Charlotte
Corolla
Davidson
Granville County (including Butner, Creedmoor and Oxford)
Jacksonville
Marion
Murphy
Surf City
Several existing partners from previous years will continue to work with Watch for Me NC:
Boone/Appalachian State University
Carrboro
Cary
Chapel Hill/UNC Chapel Hill
Dare County - Outer Banks communities
Durham/Duke/N.C. Central University
Greensboro/UNC-G
Greenville/ Pitt County
Raleigh/N.C. State University
National Center celebrated Bike to School Day in May, opens Walk to School Day registration
Bike to School Day a success, bicycle and pedestrian safety is a top priority for the USDOT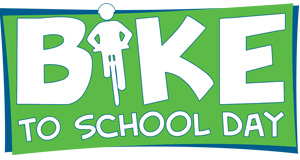 Students, parents and many other supporters across the country pedaled to school on Wednesday, May 6th, as they rode their bikes in celebration of the fourth annual National Bike to School Day. And the country's transportation leader offered his support in a national press release:
"Every child should have the opportunity to walk, bike or ride the bus to school safely," said U.S. Secretary of Transportation Anthony Foxx. "Improving bicycle and pedestrian safety is a top priority for the Department, especially as more and more Americans are choosing these options for getting to work, school and other places. The Obama Administration is proud to support National Bike to School Day and encourages families to practice safe biking habits every day."
"We're excited to see the energy and momentum for Bike to School Day grow year after year," said Lauren Marchetti, Director of the National Center for Safe Routes to School, which coordinates National Bike to School Day. "It's inspiring to see the number of communities and families that come together on this day to support active transportation and safe environments for biking and walking to school."
Bike to School Day, held annually in May, is a national event that gives communities across the country the opportunity to join together in bicycling to school on the same day. It is part of the movement for year-round safe routes to school and encourages biking to school as a healthy way for kids and families to make their school commute fun and active.
Walk to School Day registration now open
Registration is now open for the 19th annual Walk to School Day on Oct. 7, 2015. Families nationwide will come together to celebrate more walkable and active communities. This annual event in the United States is a part of an international effort to celebrate the many benefits of walking and bicycling to school. Event registration reached a record high in 2014 with more than 4,700 registered U.S. events and participation is expected to rise once again in 2015.
Walk to School Day event registration is free and open to individuals and organizations holding an October event in the United States. Events that register on the Walk to School website, www.walkbiketoschool.org, will be displayed on an interactive U.S. map, where neighboring communities, media and other organizations can identify who is walking in their area.
For more information about Walk to School Day and Bike to School Day, visit www.walkbiketoschool.org.
PBIC names five new Walk Friendly Communities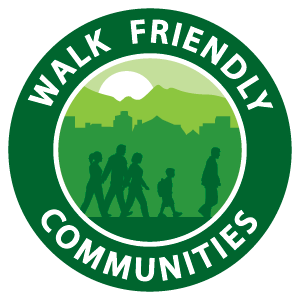 The Pedestrian and Bicycle Information Center (PBIC), a national recognition program developed by HSRC to encourage towns and cities across the U.S. to establish or recommit to a high priority for supporting safer walking environments, recently named five new cities as "Walk Friendly Communities." In addition, one community moved up from Bronze-level to Silver. The "Walk Friendly" title means a city or town is has been successful in working to improve a wide range of conditions related to walking, including safety, mobility, access and comfort.
Congratulations to the following cities:
Gold Level
Evanston, IL
Somerville, MA
Silver Level
Lee's Summit, MO (up from Bronze)
Sandpoint, ID
Bronze Level
Arcata, CA
Saratoga Springs, NY
The WFC program is funded by FedEx and the U.S. Department of Transportation Federal Highway Administration. Interested communities are encouraged to visit www.walkfriendly.org to learn more about the program and review the community assessment tool.


Suicide prevention researcher presents annual Waller Lecture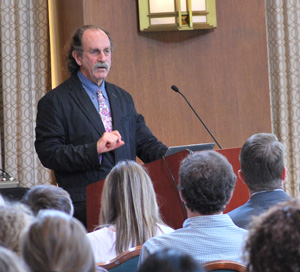 Eric Caine, M.D., a leading researcher in the field of risk factors for suicide and ways to prevent suicide, presented the 2015 Patricia Waller Lecture at UNC in April. The event was well attended by staff from HSRC, the Injury Prevention Research Center (IPRC) and the UNC Department of Psychology, as well as UNC students and community members.
Dr. Caine discussed the necessity of considering how best to develop collective, community-based programs that deal with both individual and contextual factors that contribute to suicide. These programs are built upon an understanding of the social geography of communities, identifying where we can engage distinct populations and the social ecology of groups bearing specific risks.
The lecture is held annually in memory of Patricia F. Waller, Ph.D., a professor who worked for nearly two decades as a researcher at HSRC. The lecture is supported by private donations and is sponsored by HSRC, IPRC, and the UNC College of Arts and Sciences' Department of Psychology. In addition to her work at HSRC, where she developed the concept for graduated licensing, Dr. Waller founded IPRC and was a pioneer in injury control.
In remembrance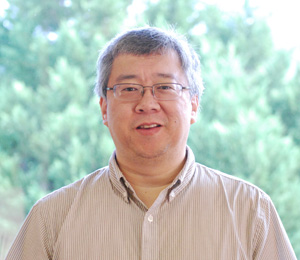 We are saddened to share news of the passing of our colleague Harvey Hou.
Harvey has been a friend of many HSRC staff and a long-time HSRC team member. In late 2012, Harvey was diagnosed with an advanced stage of cancer, which he valiantly battled for more than two years. Harvey served as manager of Information Technology Systems at HSRC for more than 15 years. Away from the Center, Harvey was a loving husband, father, son, brother, uncle and friend.
Congratulations to Forrest Council, 2014 Roy W. Crum Award Recipient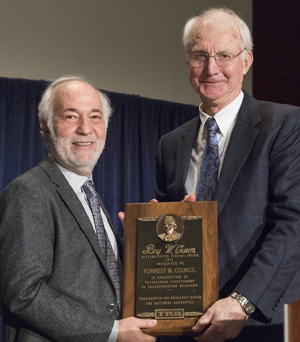 Earlier this year, HSRC researchers and staff were among the 12,000 national and international transportation professionals who gathered in Washington, D.C. for the 94th Annual Meeting of the Transportation Research Board (TRB). The 2015 meeting covered all transportation modes with more than 5,000 presentations in nearly 750 sessions and workshops – including many from HSRC – spotlighting the 2015 theme, "Corridors to the Future: Transportation and Technology."
This year, we are pleased to have one of our own honored with a TRB award.
Forrest Council, HSRC senior research scientist and former director, was presented with the 2014 Roy W. Crum Distinguished Service Award during the Chairman's Luncheon at TRB. The award rewards "outstanding achievement in the performance of distinguished service; the production of fundamental or developmental research; or the administration, promotion, or fostering of outstanding research." Dr. Council was recognized for his long-term efforts to enhance highway safety research methodologies including his role in the development and implementation of the Federal Highway Administration's Accident Research Manual and Highway Safety Information System. Congratulations to Forrest!
HSRC publications and presentations
HSRC researchers and staff regularly publish findings in peer-reviewed journals and present research results at professional meetings and trade conferences in the fields of transportation, safety, research and public health. To view our most recent publications, click here.


HSRC in the News