HSRC News Briefs
PBIC names eight new Walk Friendly Communities
The Pedestrian and Bicycle Information Center (PBIC) recently announced eight new Walk Friendly Communities. The "Walk Friendly" title means a city or town is being recognized for its success in working to improve a wide range of conditions related to walking, including safety, mobility, access and comfort.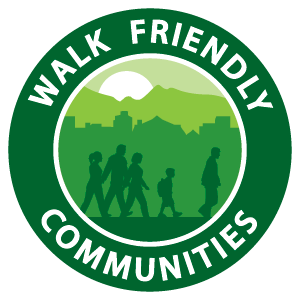 The following eight communities were recognized for their commitment to improving walkability and pedestrian safety:
Silver Level
Asheville, N.C.
Burlington, Vt.
Montclair, N.J.
Tallahassee, Fla.
Bronze Level
Atlanta, Ga.
Bloomington, Ind.
La Crosse, Wis.
Sitka, Alaska
"Cities of all sizes continue to realize the importance of being walkable. The latest eight communities to earn the Walk Friendly designation are representative of nearly all cities in the U.S., ranging from a major metropolitan area to mid-sized college towns to one of the nation's oldest communities," said Carl Sundstrom, WFC program manager. "The rate at which the program continues to grow is exciting, and I look forward to sharing the successes of communities across the nation with each additional application round."
There are now 44 Walk Friendly Communities across the nation. To date, Seattle, Wash., is the only Platinum-level Walk Friendly Community.
The program began accepting applications for the seventh round of recognition on Nov. 1, with the deadline for submission on Dec. 15. Applicants use a web-based program that asks a comprehensive set of questions and provides communities with feedback and ideas for promoting pedestrian safety and activity. The questions examine engineering, education, encouragement, enforcement, evaluation and planning. Interested communities are encouraged to visit www.walkfriendly.org to learn more about the program and review the community assessment tool.
This program is supported by FedEx as part of its commitment to pedestrian safety.
National Center celebrates 17th Walk to School Day
The National Center for Safe Routes to School, which is housed at HSRC, celebrated International Walk to School Day on Oct. 9. Students, parents and community members representing more than 4,100 schools across the United States walked and biked to school as part of an effort to encourage more families to enjoy the many benefits of safely walking and bicycling to school.
"There is no better way to encourage students and their families to engage in a lifetime of healthy activities than giving them the experience of walking and biking to school," said Lauren Marchetti, director of the National Center for Safe Routes to School, which serves as the coordinating agency for the event. "Walk to School Day is often the first step in motivating children to make safe, healthy choices."
"As a parent, I know how important it is that all children have the ability to get to school safely, whether they walk, bike or take the school bus," said U.S. Transportation Secretary Foxx. "Thanks to the National Center for Safe Routes to School and many other wonderful local, state, and national organizations, more and more families are learning that walking is an option, a choice I hope they continue to use throughout October and the rest of the school year."
International Walk to School Day is a global event that involves communities from more than 40 countries walking and biking to school. It began in 1997 as a one-day event. Over time, it has become part of a movement for year-round safe routes to school. Today, thousands of schools across America – from all 50 states, the District of Columbia and Puerto Rico – participate every October. For more information on Walk to School activities in the U.S., and to see which schools participated in 2013, visit www.walkbiketoschool.org.
Teen driver injury prevention expert presents lecture at UNC
Dr. Jean T. Shope, research professor at the University of Michigan Transportation Research Institute and School of Public Health, presented this year's Patricia F. Waller Lecture, "Translation of Teen Driver Injury Prevention Research into Practice" on the UNC campus. The free event was well attended by HSRC and Injury Prevention Research Center (IPRC) staff, as well as by students and community members.
Dr. Shope discussed that while motor vehicle injury is a leading cause of death and serious injury for teens, especially in their first year of driving, there are few evidence-based approaches to reduce these deaths and injuries. She shared a series of four projects testing the efficacy, effectiveness and translation of the evidence-based Checkpoints program for parents of new teen drivers, as well as implications for policy and practice that would enhance dissemination of this program. A recording of the presentation is available on the HSRC website.
The lecture is held annually in memory of Patricia F. Waller, Ph.D., a professor who founded IPRC and was a pioneer in injury control. She worked for nearly two decades as a researcher at HSRC, where she developed the concept for graduated licensing, which was adopted nationwide. The lecture is supported by private donations and is sponsored by HSRC, IPRC, and the UNC College of Arts and Sciences' Department of Psychology.
HSRC publications and presentations
HSRC researchers and staff regularly publish findings in peer-reviewed journals and present research results at professional meetings and trade conferences in the fields of transportation, safety, research, and public health. To view our most recent publications, click here.
HSRC in the News
The following is a highlight of recent media stories that include information and research from the Center. Web links to the following news stories are time sensitive, so some stories might not be accessible after the initial publication date without required registration. To access more archived news media, please visit www.hsrc.unc.edu/news_room/archived_news.cfm.
Bike fatalities raise concerns about road safety
WUNC
Oct 25, 2013
The rules of the road
The New York Times
Oct. 21, 2013
Teenagers aren't speeding to get their driver's licenses
The Kansas City Star
Oct. 15, 2013
Many teens taking a pass on a driver's license
USA Today
Oct. 13, 2013
Second person dies from injuries in Chapel Hill hit-and-run
News 14 Carolina
Sept. 24, 2013
Jordan High mourns the death of a senior
WTVD
Sept. 23, 2013
Cell phone-related pedestrian injuries soar, study says
Detroit Free Press
Sept. 18, 2013
Child passenger safety week highlighted in Asheville
Asheville Citizen-Times
Sept. 18, 2013
Teens go slow on getting driver's licenses
Stateline
Sept. 2, 2013
It's time to drive
Courier-Tribune
July 31, 2013
Time behind the wheel
Shepherd Center
July 1, 2013