New communities earn "Walk Friendly" status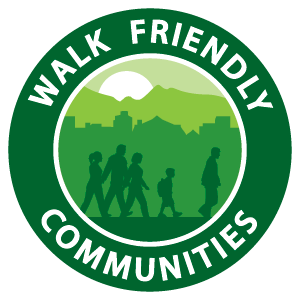 The Pedestrian and Bicycle Information Center recently announced that three new communities have earned Walk Friendly Community (WFC) recognition – this brings the total number of communities with "Walk Friendly" status to three dozen since the program was launched in 2010. Each of these cities or towns are recognized for success in improving a wide range of conditions related to walking, including safety, mobility, access, and comfort. Congratulations to Bend, Ore. (silver level), Louisville, Ky. (bronze level) and Indiana, Pa. (bronze level)!
"The Walk Friendly Communities program continues to expand, proving that more and more cities are dedicated to being amenable to pedestrians," said Carl Sundstrom, WFC program manager. "I am particularly pleased by this round as both Louisville and Indiana are past applicants who were given honorable mentions and used the feedback the program provided to enhance their walkability."
The WFC program is funded by FedEx and the Federal Highway Administration. For more information about the Walk Friendly Communities program, visit www.walkfriendly.org.