National Bike to School Day catches on, shatters previous participation mark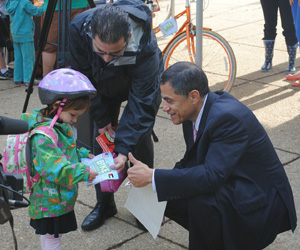 More than 100 students from a dozen schools joined together with Federal Highway Administrator Victor Mendez (right) and other special guests for the National Bike to School Day roll-out event in D.C's Lincoln Park, where they were fitted for helmets, collected stickers and began their morning rides together.
Register now
Registration is now open for the 17th annual Walk to School Day to be held on Wednesday, Oct. 9! For more information visit the Walk Bike to School Day website, www.walkbiketoschool.org.
From all 50 states and the District of Columbia, tens of thousands of students biked to school in May as part of the second annual National Bike to School Day. In all, 1,705 schools registered Bike to School Day events—80 percent more than the inaugural national event in 2012—setting a new National Bike to School Day record. The National Center for Safe Routes to School, which coordinates National Bike to School Day, is the national clearinghouse for the federal Safe Routes to School program, and is housed at HSRC.
"In March, Bruce Katz of the Brookings Institute told the National Bike Summit that societal trends are favoring bicycling, that at this moment there is a tremendous bicycle wave rolling through America," said Lauren Marchetti, director of the National Center for Safe Routes to School, in a recent press release. "If the success of our second annual Bike to School Day is any indication, I'd say Mr. Katz is on to something."
This year, the world around Bike to School Day participants was bigger than their neighborhoods. In addition to being part of National Bike Month, Bike to School Day 2013 was part of an international movement called Global Youth Traffic Safety Month. The goal of this effort is to engage and empower youth across the globe to develop and implement peer to peer education projects, support increased enforcement of traffic laws and advocate for stronger laws to protect young people on the roads.