HSRC seeks applications for annual highway safety scholarship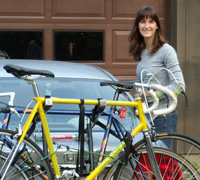 HSRC's scholarship is named in memory of staff member Megan Cornog, who died in 2010 after a courageous battle with cancer.
HSRC is currently seeking applications for the Megan Cornog Memorial Highway Safety Scholarship from graduate students with an interest in the field of highway safety. The $1,000 scholarship is open to full-time students who will be enrolled in a master's program in fall 2013 at any of the University of North Carolina campuses. In a 500-1,000 word essay, applicants will be asked to explain how their field of study could be used to prevent motor vehicle-related deaths and injuries on North Carolina roads. Candidates will also be evaluated based on academic performance, extracurricular and professional activities, and work experience.
The purpose of this scholarship is to foster the education and professional development of graduate students with an interest in transportation safety-related areas, including, but not limited to, engineering, driver behavior, planning, public health and environment. Please share this opportunity by directing potential applicants to the additional information available on the HSRC website. The deadline to submit an application is May 15, 2013.