HSRC team improves safety for cyclists using shared-lane markings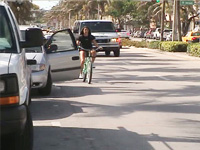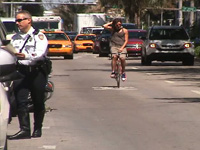 When members of the Miami-Dade Metropolitan Planning Organization (MPO) examined bicycle-motor vehicle crashes along Washington Avenue, the main arterial traffic corridor near Miami Beach, they discovered a large number of bicycle "dooring" crashes – in which the door of a parked car is suddenly opened into the path of a bicyclist who is riding too close to the parking lane. In fact, between 2000 and 2009 (the latest data available from the MPO), 52 bicycle crashes were reported along the one mile stretch of Washington Avenue between 12th Street and Dade Blvd. Twenty one percent of those crashes involved a bicyclist striking the open car door of a parked vehicle. Often these situations cause injury to the bicyclist when he or she is struck by the vehicle door or, if the bicyclist swerves into the travel lane, when he or she is struck by a passing vehicle.
"In the absence of bicycle lanes, motorists often neglect to safely share the roadway with bicyclists, which can compel bicyclists to ride closer to parked motor vehicles," said Bill Hunter, the principal investigator of the Highway Safety Research Center (HSRC) study. "Both 'dooring' situations and cyclists veering into traffic can be incredibly dangerous."
To address this situation, the City of Miami Beach placed shared lane markings on a two-mile stretch of Washington Avenue. Specifically, "bike and chevron" markings were placed in the center of the outside lane, approximately 13.5 feet from the curb to allow bicyclists tracking over the markings to be safely outside the parked vehicle door zone, but where they could also take control of the lane. HSRC researchers, including Hunter's coauthors, Raghavan Srinivasan and Carol A. Martell, teamed up with the city to collect video data of bicycles and motor vehicles traveling along Washington Avenue before and after the installation of the shared lane markings.
"The research shows that the shared lane markings improved safety by directing cyclists to move further away from parked cars outside of the car door zone," said Hunter. "The markings also helped to remind drivers and cyclists that the roadways need to be shared."
According to the HSRC team's report, "Evaluation of Shared Lane Markings in Miami Beach, Florida," the percentage of bicyclists positioned near parked vehicles decreased from 71 to 55 percent after the shared lane markings were installed. Finally, there was an increase of about 10.5 inches between bicycles and parked motor vehicles after the introduction of the shared lane markings – allowing bicyclists to ride outside of the "door zone."
A full copy of the report is available on the Florida Department of Transportation's website.