HSRC News Briefs
HSRC celebrates National Bike Month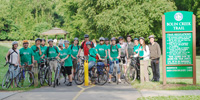 HSRC staffers gather at the Bolin Creek Trail to participate in Bike to Work Day on May 17.


The UNC Highway Safety Research Center (HSRC) participated in many National Bike Month activities through its various centers, programs and activities.
Bike to School Day
On May 9, the first-ever National Bike to School Day exceeded expectations with 951 events in 49 states across the country. From Alaska to Florida, kids bicycled and walked to school to promote safer routes to school, cleaner air, healthier habits and to have an all-around good time. The national event was coordinated by the National Center for Safe Routes to School, in conjunction with the League of American Bicyclists' National Bike Month. Bike to School Day builds on the success of Walk to School Day, which is celebrated every October in all 50 states and more than 40 countries around the world.
Bike to Work Day
Twenty HSRC staffers participated in Bike to Work Day on May 17, meeting at nearby University Mall and riding approximately three miles to work along the Bolin Creek Trail. After the ride, the group gathered for breakfast before starting the work day.
BikeAbility
Just a few days before National Bike Month, HSRC staff took part in the Chapel Hill Parks and Recreation Department's BikeAbility event. The event offered children and adults with disabilities a chance to try adapted bicycles and practice safety skills. HSRC provided bike helmets and instructed many participants on how to correctly fit and adjust a helmet.
CMF Clearinghouse seeks volunteers for focus groups
The Federal Highway Administration's Crash Modification Factors (CMF) Clearinghouse team is currently seeking volunteers to discuss CMFs, how they are used in road safety and design decisions, and the CMF Clearinghouse website, www.cmfclearinghouse.com.
Crash Modification Factors are used to estimate how crashes will be affected by changes in the road environment and the CMF Clearinghouse is designed to help transportation engineers and other safety professionals easily search for CMFs and supporting documentation to identify the most appropriate countermeasure for their safety needs. Even if you've never used the CMF Clearinghouse before, we need your valuable insight into how you use CMFs – or would like to use CMFs in the future. The goal for these sessions is to help identify potential improvements to the CMF Clearinghouse and supporting database.
How can you help?
Participants are being recruited for each of the following hour-long discussion groups (All sessions will be held from 2-3 Eastern on the date specified.):
Group 3 – Tuesday, Aug. 7 (Participants: Design engineers who do not routinely use the CMF Clearinghouse)
Group 4 – Tuesday, Aug, 21 (Participants: Local agency staff who do not routinely use the CMF Clearinghouse)
The discussions will be conducted via conference call and webinar software. All participants will be offered free admission to CMFs training courses from the National Highway Institute. To learn more about this effort and to volunteer, please contact Daniel Carter at daniel_carter@unc.edu or 919-962-8720.


HSRC publications and presentations
HSRC researchers and staff regularly present and publish findings via transportation, safety, research, public health and other trade conferences and venues.
To browse a complete list of recent HSRC publications and presentations, click
here
.
HSRC staff milestones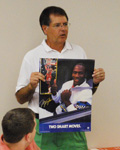 Retirement
After four decades, Bill Hunter said his goodbyes to the Highway Safety Research Center (HSRC) staff at a retirement lunch in June 2012. Bill's journey with HSRC began in 1972, focusing on roadway and roadside safety. For a period of time, Bill served as the Center's associate director. Most recently, Bill's research has concentrated on evaluating the effectiveness of bicycle facilities to improve safety for bicyclists and motorists. Recent treatments evaluated include "blue bicycle lanes" used at intersections in Oregon and shared lane markings applied in several cities throughout the nation. Congratulations Bill, and thank you for your service to HSRC!
Celebrating 25 years
Two long-time HSRC staff members recently celebrated 25 years as staff at the University of North Carolina (UNC). Charlie Zegeer and Jean Justice celebrated this accomplishment with colleagues at the HSRC staff picnic in May. Thank you, Charlie and Jean, for your hard work and dedication to HSRC, UNC and the entire state!
HSRC in the News