Remembering Mary Ellen Tucker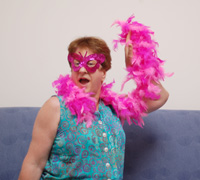 Remembering Mary Ellen Tucker
Mary Ellen Tucker, a much-loved member of the UNC Highway Safety Research Center (HSRC) family passed away in April. Many colleagues joined Mary Ellen's friends and family at her funeral in Albemarle, N.C. The following is an abbreviated version of a eulogy given by HSRC director David Harkey.
"I am honored to be of service to the Highway Safety Research Center." Those were Mary Ellen's written words to me this past year and it sums up her dedication to her work and to her colleagues. Mary Ellen took pride in our library and was always willing to show new staff and visitors the array of available resources. I think her greatest joy as a librarian, though, was providing service to our staff or to visiting students and faculty. It was not uncommon to walk by her office and see a student sitting in an old blue chair beside her desk and the two of them engaged in a conversation about their research or library needs.
In addition to all of her professional responsibilities, Mary Ellen was a vital part of life at our center. First, she was our resident gardener. She was also a big part of any social event we would host at the Center. She never hesitated to volunteer and never missed an opportunity to contribute. Mary Ellen also enjoyed her life away from the office – a lesson that many of us need to learn. She was active with her friends and family, home gardening, pets, and her martial arts.
Mary Ellen – life at the center will not be the same without you. We will miss all that you contributed both personally and professionally to each of our lives. We will always remember your kindness and friendship, and your dedication to the center, the university and staff, faculty and students. And we will hold onto those memories of your smile, your laughter and your constant good cheer. We love you and, in the words of one of our staff, "may your spirit be forever in bloom."
If you are interested in a reading the full version of the eulogy, please contact HSRC communications coordinator Patty Harrison at harrison@hsrc.unc.edu.