35 years of child passenger safety in NC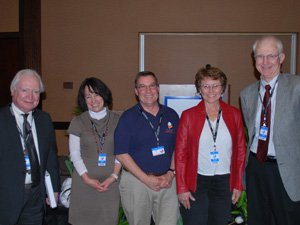 HSRC staff members who were also present at the first CPS Conference in 1982 pose with Rep. George Miller at the 2012 conference.
March marked a milestone for child passenger safety (CPS) across NC and for the UNC Highway Safety Research Center (HSRC). It was the 35th anniversary of the NC CPS program and the 30th anniversary of the first NC CPS Conference, which provides continuing education and networking opportunities to certified child passenger safety advocates and educators.
"Thanks to continued support from the NC Governor's Highway Safety Program (GHSP) over the past 35 years, and the partnerships we've developed among state and local agencies, we've been able to make a big impact in child passenger safety across NC," said Bill Hall, manager of the Occupant Protection Program at HSRC.
The 2012 CPS Conference, which was planned and coordinated by HSRC, the NC Child Passenger Safety Training Committee, the NC Department of Insurance Office of State Fire Marshal and the NC Governor's Highway Safety Program, was attended by more than 320 participants from NC and other states.
Each year the NC CPS Training Committee recognizes advocates, certified CPS technicians and instructors, and programs for their dedication to the safety of North Carolina's children. In addition to annual awards, special awards were presented to the Honorable George Miller, who served in the NC House of Representatives from 1971 to 2000, and Senator William Purcell for their work in passing strong CPS laws in NC. Also, HSRC Director David Harkey presented an award to Becky Wallace, the director of the GHSP, in recognition of GHSP's support of CPS. The complete list of award winners is available on www.buckleupnc.org.
NC's CPS program is considered by many one of the strongest in the country. This fact is particularly important for HSRC as the Center and several staff have been – and continue to be – involved in the effort since day one. To learn more about CPS in NC, visit www.buckleupnc.org.