UNC-Greensboro student awarded HSRC scholarship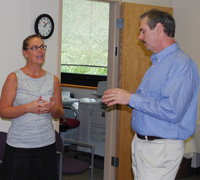 HSRC selected UNC-Greensboro student Laura Peoples as the recipient of the Center's 2012 Megan Cornog Memorial Highway Safety Scholarship. The scholarship is awarded each year to a graduate student with an interest in transportation safety-related areas. Peoples is pursuing a master's degree in public health education, with an emphasis on community health education. After graduating, she says she plans to work towards improving bicycle and pedestrian infrastructure in North Carolina.
"Public health educators and transportation safety researchers are essential in establishing and improving built environments that are conductive to safe multi-modal road use, thereby preventing motor vehicle-related deaths and injuries," said Peoples. "I'd like to see our roadways become safer for everyone."
In addition to her studies, Peoples is an advocate for the Coalition of National Health Education Organizers and a graduate research assistant for the Prevalence of Bicycling and Walking Prior to a Major Natural Experiment in Greensboro project. She expects to graduate in May 2013.
The purpose of the annual Megan Cornog Memorial Highway Safety Scholarship is to foster the education and professional development of graduate students with an interest in transportation safety-related areas. Candidates are evaluated based on an essay, as well as academic performance, career goals, extracurricular and professional activities and work experience. Since establishing the scholarship in 2006, HSRC has awarded seven scholarships to graduate students in the UNC system.
The scholarship is named in memory of a former HSRC staff member, Megan Cornog, who died Sunday, Nov. 7, 2010 at her home in Carrboro, N.C. after a courageous battle with cancer. After earning her master's degree from UNC-Chapel Hill in May 2009, Megan began her career working as a project coordinator for HSRC, focusing on pedestrian and bicycle issues.