HSRC News Briefs
National Center for Safe Routes to School receives Harvard award, reaches data milestone
The National Center for Safe Routes to School recently received a Harvard Bright Ideas in Government award for its efforts to engage communities in school travel data collection and information-driven decision making. The award recognizes innovative initiatives that demonstrate creative solutions to issues such as urban and rural degradation, environmental problems, and the academic achievement of students.
The National Center serves as the information clearinghouse for the federal Safe Routes to School (SRTS) program that enables and encourages children to safely walk and bicycle to school. Its resources make collecting, entering and analyzing school travel data as easy and straightforward as possible for communities and states.
"The National Center is honored to receive the Harvard Bright Ideas in Government award," said Lauren Marchetti, director of the National Center for Safe Routes to School. "The wealth of data available through the National Center exists because of the commitment of Safe Routes to School State Coordinators, program coordinators and local supporters who have used this system and provided data."
The National Center also reached a data milestone in July of this year – collecting its one millionth data form. Data collected through the National Center is beneficial to SRTS programs in many ways. At a local level, the information available can serve as a guide during the event planning process and provide feedback on how well a program is working. At the state level, participation in the national data collection effort is often required in order to apply for and receive SRTS funds. At the national level, researchers can analyze the data compiled by the National Center to identify and understand national trends and effective SRTS program strategies.
Nine new Walk Friendly Communities announced
The Pedestrian and Bicycle Information Center (PBIC) announced in September nine new Walk Friendly Communities, bringing the total number of communities recognized under the program to 33. The "Walk Friendly" designation means the city or town is being recognized for success in working to improve a wide range of conditions related to walking, including safety, mobility, access and comfort. The nine communities recognized during this round are:
Gold Level
Silver Level
Long Beach, Calif.
Redwood City, Calif.
Bronze Level
Essex Junction, Vt.
Fort Collins, Colo.
Gainesville, Fla.
Northampton, Mass.
Rochester, Minn.
Shorewood, Wisc.
To learn more about selection criteria, browse a complete list of all 33 Walk Friendly Communities across the nation, and view information on how to apply for the next round of selections in November, visit www.walkfriendly.org.
PBIC releases final results of its national Bike Share study
PBIC recently completed a national study on Bike Share programs. The study explores the evolution of bike sharing in the U.S., defines success factors, examines funding models, explains demographic and geographic trends affecting the implementation of programs, recommends a step-by-step approach for implementation in cities in the start-up phase, and discusses measures to increase demand and expansion of existing programs. Copies of the final report can be downloaded at www.bicyclinginfo.org/bikeshare.
In addition, PBIC developed a free webinar series covering the updated American Association of State Highway Transportation Official's (AASHTO) Guide for the Development of Bicycle Facilities. The updated guide, released in June 2012, serves as a key resource for creating and designing bicycle facilities in the U.S. This seven-part webinar series covers all aspects of the updated guide. To view archived presentations, go to www.bicyclinginfo.org/aashto or visit PBIC's new YouTube channel.
HSRC publications and presentations
HSRC researchers and staff regularly present and publish findings via transportation, safety, research, public health and other trade conferences and venues.
To browse a complete list of recent HSRC publications and presentations, click
here
.
HSRC events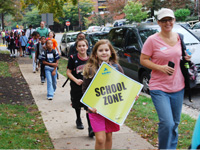 HSRC has had a busy fall season, coordinating the following events:
Walk to School Day
On Oct. 3, thousands of students, parents and communities representing more than 4,200 schools across the U.S. walked and bicycled to school to celebrate International Walk to School Day. This one-day event, coordinated by HSRC's National Center for Safe Routes to School, is part of an international effort to encourage more families to get out of their cars and on to their feet to enjoy the many benefits of safely walking and bicycling to school.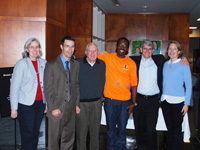 Patricia Waller Lecture
Dr. Daniel Webster, co-director of the Johns Hopkins Center for Gun Policy and Research, and Tard Carter, outreach supervisor of Safe Streets East Baltimore, shared their insight on the topic of violence prevention on Oct. 8. The Patricia Waller Lecture is co-sponsored by the UNC Injury Prevention Center (IPRC), HSRC, and the UNC Department of Psychology and is held in memory of Patricia Fossum Waller, Ph.D. Dr. Waller was the founding director of IPRC and a UNC professor. She also worked for nearly two decades as a researcher at HSRC where she developed the concept for graduated licensing that would become adopted nationwide.
HSRC in the News
The following is a highlight of recent media stories that include information and research from the Center. Web links to the following news stories are time sensitive, so some stories might not be accessible after the initial publication date without required registration. To access more archived news media, please visit www.hsrc.unc.edu/news_room/archived_news.cfm.
Walk to School Day
The Better Show
Oct. 5, 2012
Local students take part in global event
WTVD
Oct. 5, 2012
Car-pedestrian crashes targeted in NC
The News & Observer
Oct. 5, 2012
Carrboro joins the Triangle Watch for Me NC campaign
The Daily Tar Heel
Sept. 18, 2012
D.C. Earns Status and Praise as a "Walk Friendly Community"
AASHTO Journal
Sept. 14, 2012
Long Beach designated a Walk Friendly Community
The Long Beach Press-Telegram
Sept. 10, 2012
19-year-old charged with DWI in woman's birthday death
The Legal Examiner
Aug. 15, 2012
Highway Patrol offers tips on teen driving, school bus safety
The Salisbury Post
Aug. 14, 2012
State launches pedestrian safety campaign
The News & Observer
Aug. 10, 2012
Researchers: Distracted drivers aren't only problem in busy crosswalks
WRAL
Aug 9, 2012
N.C. inspection change not a worry
The Charlotte Observer
Aug. 8, 2012
Less death before dawn
The Journal Gazette
Jul 22, 2012