HSRC to guide practitioners through implementing Complete Streets program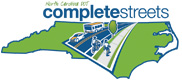 Active transportation is on the rise in North Carolina, but while more people are seeking alternative methods of travel, not all roads offer safe facilities for pedestrians and cyclists. Statewide, more than 2,200 pedestrians and around 1,000 bicyclists are struck by cars in reported collisions each year.
One approach to helping communities better serve all road users is Complete Streets. Across the country, cities and states are beginning to adopt and implement Complete Streets policies that promote roadway designs that safely accommodate all road users, including motorists, transit riders, pedestrians and bicyclists. The North Carolina Department of Transportation (NCDOT) adopted a Complete Streets policy in 2009 and completed the Complete Streets Planning and Design Guidelines to provide direction for the design and construction of complete streets in July 2012.
"Communities need realistic solutions for the growing demand for safe and accessible active transportation options," said Laura Sandt, HSRC senior research associate. "Complete Streets offers an approach to balance the needs of all roadway users and represents the future of roadway design and planning."
Examples of Complete Streets generally include streets that have sidewalks, appropriate bicycle facilities, transit stops, right-sized street widths, and context-based traffic speeds, and are well-integrated with surrounding land uses. More on this policy is available on the Complete Streets website.
Over the past several months the UNC Highway Safety Research Center (HSRC) coordinated four free one‐day workshops in North Carolina to describe a process for training practitioners and implementing the Complete Streets Policy. These introductory workshops will be followed by more detailed, two-day training courses on Complete Streets implementation to be held in 2013.
"The two-day courses will go into depth on how to determine what transportation modes best serve the area and what facilities are needed, demonstrate how to design a roadway that integrates the needs of all users, and explore the tradeoffs and alternatives and how to incorporate Complete Streets into a community's long term plans," said Sandt.
The training events will occur each month in locations across the state. Training is open to NCDOT staff, local agencies and developers, and others with an interest in roadway design. Check the Complete Streets website training page in December to register or learn more about these training events.