Making the curve safer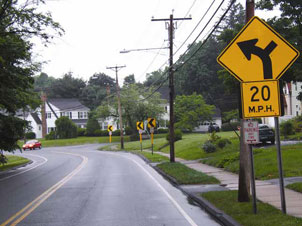 Example of a curve treated with enhanced delineations
in Connecticut.
A recent UNC Highway Safety Research Center (HSRC) study finds that placing road warning signs to give motorists advanced notice of curves and marking the edges of the road as it turns can be a cost-effective approach to improving overall road safety. Safety Evaluation of Improved Curve Delineation provides analyses of these improvements to assess their safety and economic benefits. This work was led by HSRC Senior Researcher Raghavan Srinivasan. The co-authors included HSRC Research Associate Jongdae Baek, HSRC Engineering Research Associate Daniel Carter, and researchers from VHB, Inc. and Persaud and Lyon, Inc.
"These types of analyses are very important because they indicate which improvements are likely to reduce crashes and injuries," said Dr. Srinivasan. "They also provide the biggest bang for the buck by being cost-effective."
The report is part the Federal Highway Administration's (FHWA) Low Cost Safety Improvements Pooled Funds Study, an effort to evaluate unproven low cost strategies to improve safety and decrease fatalities in a variety of road conditions. The safety strategies are outlined in the National Cooperative Highway Research Program (NCHRP) Report 500 Series.
Addressing the safety of curves is an important step toward achieving the overall goal of the American Association of State Highway and Transportation Officials (AASHTO) Strategic Highway Safety Plan of reducing fatalities on U.S. roads. According to statistics from the Fatality Analysis Reporting System, approximately 27 percent of the 38,588 fatal crashes in 2006 occurred along curves, predominantly on two-lane rural highways. The average accident rate for curving sections of road is about three times the average accident rate for straight sections.
Utilizing data collected in Connecticut and Washington, researchers evaluated the safety implications of improvements such as reflective posts that mark the edge of the curve, known as "post-mounted delineators", chevrons with higher retro-reflectivity, and advanced curve warning signs. The results of the study indicate significant crash reductions following the addition of signs before and within the curveľan 18 percent reduction in crashes resulting in injuries or fatalities, a 27.5 percent reduction in crashes at night, and a 25.4 percent reduction for crashes at night caused by running off the road or crossing into another lane of travel.
An economic analysis revealed that the signing improvements are a very cost-effective treatment with the benefit-cost ratio exceeding eight to one. This estimate was made by comparing the annual cost of installing and maintaining these signs and the expected reduction in crashes based on information about the average cost per crash. The average costs of different crash types, for example running off the roadway, were provided by the 2005 FHWA study Crash Cost Estimates by Maximum Police-Reported Injury Severity Within Selected Crash Geometries, co-authored by HSRC Senior Research Scientist Forrest Council.
HSRC is currently examining other low cost improvements on horizontal curves, such as shoulder rumble strips and larger signs, for another study funded by FHWA. HSRC is also leading an effort funded by NCHRP to assess the effectiveness of improvements at signalized intersections.
The full report is available at http://www.fhwa.dot.gov/publications/research/safety/09045/index.cfm.