PBIC launches Designing for Pedestrian Safety Webinar series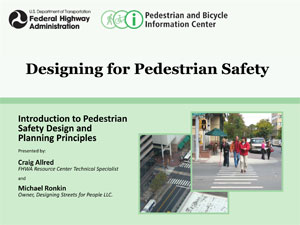 This summer the Pedestrian and Bicycle Information Center (PBIC), a clearinghouse of the Federal Highway Administration (FHWA) housed within the UNC Highway Safety Research Center (HSRC), launched a new Webinar series entitled "Designing for Pedestrian Safety". The Designing for Pedestrian Safety Webinar series is intended to help communities address pedestrian safety issues through design and engineering solutions. Modeled after the PBIC and FHWA in-person training courses, the new Webinar Series explores a variety of topics including road diets, intersection geometry and signalized intersections. Webinar presenters have included Charlie Zegeer, director of the PBIC and John LaPlante, director of engineering with T.Y. Lin International. The series consisted of eight parts, with each Webinar focusing in on a specific subject matter surrounding pedestrian safety.
With attendance numbers reaching up to 1,000 viewers per Webinars, the series has been a success for PBIC. Attendees praised PBIC for the in-depth discussions and explanation of specific engineering treatments. "These webinars are a great aid for those who work in traffic/transportation," said one attendee. "It also helps focus attention on training for road design for pedestrians and bicyclists." Each Webinar included a question and answer session for attendees to submit questions for response from the panelists.
This series is one of several Webinar series that PBIC offers. In addition to Webinars, PBIC also provides other resources for a variety of audiences. From in-person trainings to featuring success stories from around the United States, PBIC serves anyone interested in pedestrian and bicycle issues, including planners, engineers, private citizens, advocates, educators, police enforcement and the health community.
For more information on the Designing for Pedestrian Safety Webinar Series or to access archived Webinars, visit www.walkinginfo.org/training/pbic/dps_webinars.cfm.