Three new summary reports from HSIS
In recent months, the FHWA released three new Highway Safety Information System (HSIS) summary reports: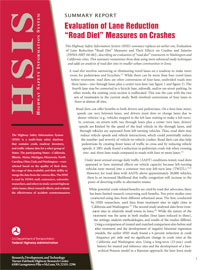 Evaluation of Lane Reduction "Road Diet" Measures on Crashes summarizes the findings of a before-after evaluation to determine the effectiveness of road diets (reducing the number of lanes along a roadway) on safety. Data for the analysis were acquired from California, Washington, and Iowa. The results showed road diets to reduce total crashes, on average across all sites, by 29 percent. More details are provided on the report on the levels of reduction associated with factors such as population and traffic volume.
In Factors Contributing to Pedestrian and Bicycle Crashes on Rural Highways, the authors examined the differences between pedestrian and bicycle crashes in urban and rural environments in North Carolina. Researchers combined HSIS roadway data and pedestrian and bicyclist crash data for which crash types had been assigned using the Pedestrian and Bicycle Crash Analysis Tool. The report identifies 11 specific problem areas for pedestrians in rural areas, such as walking along a two-lane rural road, and 5 specific problems areas for bicyclists, such as motorists overtaking bicyclists or rural two-lane roads.
Development of a Speeding-Related Crash Typology was designed to explore the characteristics of crashes that were deemed speed-related in order to provide guidance on the application of existing interventions and the development of new interventions. Researchers used crash data from the General Estimates System (GES), the Fatality Analysis Reporting System (FARS), and two of the HSIS states. The report describes the relationship between speed-related crashes and a variety of environmental factors including speed limits, roadway alignment, and weather conditions.
The FHWA HSIS is a multistate database that contains crash, roadway inventory, and traffic volume data for a select group of States. For more information on these summary reports, contact David Harkey, director, HSRC at harkey@hsrc.unc.edu.