HSRC News Briefs
HSRC awards annual scholarships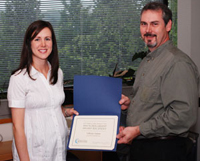 Award winner Catherine Vladutiu with HSRC Director David Harkey.
The Highway Safety Research Center (HSRC) takes pride in recognizing students with innovative ideas in the field of highway safety. This fall, the Center awarded the 2010 UNC Highway Safety Research Center Scholarship to Catherine J. Vladutiu and Michael Ousdahl. Vladutiu is a doctoral candidate at UNC-Chapel Hill in the department of epidemiology. Ousdahl is a master's candidate at UNC-Chapel Hill in the departments of city and regional planning and public administration.
"I am honored to receive the 2010 UNC Highway Safety Research Center Scholarship in recognition of my dissertation research," said Vladutiu. Vladuitu's research utilizes probabilistic record linkage methodology to examine the risk of adverse maternal and fetal outcomes from motor vehicle crashes during pregnancy in North Carolina. Vladutiu and Ousdahl will present their research and interests in highway safety to the staff of HSRC.
The purpose of the Highway Safety Research Center Scholarship is to foster the education and professional development of graduate students with an interest in transportation safety-related areas, including but not limited to, engineering, driver behavior, planning, public health and environment. The $1,000 scholarship is available to a full-time graduate student with an interest in transportation safety who will be enrolled during the following semester at any of the University of North Carolina campuses. Applicants are asked in a 500 - 1000 word essay to explain how their field of study could be used to prevent motor-vehicle-related deaths and injuries on North Carolina roads. Candidates are also evaluated based on academic performance, extracurricular and professional activities, and work experience.
Distracted driving documentary features HSRC researcher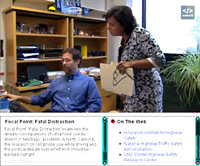 Senior Researcher Arthur Goodwin discusses study with WRAL reporter in documentary.
"I think the research is clear on cell phones and driving; cell phones increase the risk of a crash," said Arthur Goodwin, senior research associate at HSRC in a documentary entitled "Fatal Distraction." The documentary aired on August 26 on WRAL news in Raleigh, NC. The segment brought light to the issue of distracted driving and the risks involved with cell phone use while driving. "Research shows if you use a cell phone while driving, you are at a four times higher risk of being involved in a crash," stated Goodwin during the documentary. Hosts of the documentary also talked to North Carolina law enforcement, as well as the families of two crash victims whose lives were lost due to distracted driving. North Carolina passed a ban on texting while driving in the state last year.
To view the documentary, visit
http://www.wral.com/news/local/documentaries/video/8175675/#/vid8175675
HSRC in the news
The following is a highlight of recent media stories that include information and research from the Center. Web links to the following news stories are time sensitive, so some stories might not be accessible after the initial publication date without required registration.
UNC researchers: Ban cell phones while driving
WRAL
May 10, 2010
Congress targets teen driving, mulls federal driver's license standards
ABC News
June 02, 2010
Fewer 16-year-olds with licenses = more 16-year-olds alive
Chicago Tribune
June 22, 2010
Senate pushes for phone-free driving
News & Observer
June 22, 2010
Children and sunbathers most likely to be hit on Volusia beaches
Orlando Sentinel
July 01, 2010
State closer to cell phone driving ban
Freedom ENC
July 12, 2010
Driven to distraction
Rocky Mount Telegram
August 06, 2010
Congestion concerns: Charlotte-area traffic raises worries about luring businesses
Mecklenburg Times
August 10, 2010
Back to School Program Protects Kids, Neighbors
AOL Rented Spaces
August 31, 2010
Man driving scooter held on DWI charge
News & Observer
September 02, 2010
Restricted licenses help curb teen traffic fatalities
Fayetteville Observer
September 05, 2010
Teen driver safety: The GDL Kickback
Auto Week
September 13, 2010
Motorcycle deaths up as traffic deaths drop
News & Observer
September 28, 2010