Booster seat law enforcement report released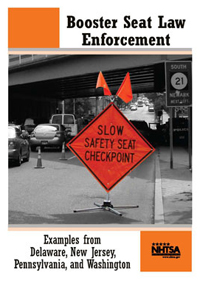 This past spring, the National Highway Traffic Safety Administration released a report on a study that investigated the implementation of booster seat laws (enhanced child restraint laws) and examined the most effective strategies that law enforcement agencies can use to enforce booster seat laws. The study included a literature review, updating an inventory of the Nation's booster seat laws, evaluating enforcement strategies and activities among law enforcement agencies and recommendations for booster seat law enforcement techniques. Bill Hall, manager of the UNC Highway Safety Research Center's occupant protection program contributed to the study by conducting the inventory of the States' Booster seat laws.
Eight law enforcement agencies throughout Delaware, New Jersey and Pennsylvania participated in the evaluation. The 72-page NHTSA document details the study's findings including analyzing the most effective methods to enforce booster safety laws. Officers from the eight law enforcement agencies were debriefed after the study and shared their observations from the six-month enforcement period which ran from March to September 2008. To read more about the Booster Seat Law Enforcement study and the examples outlined, visit http://www.nhtsa.gov/staticfiles/nti/pdf/811247.pdf.